To calculate payroll:
Go to the

Payroll

section;

Select the year you wish to calculate payroll for;

Click

Create Payroll;

Pick the month. The pay date will be automatically selected as the end of the month.

You may wish to select specific Leave Period dates.

Once the payroll is created, click on the payroll number (for example 001) to enter the payroll. Once there, you will notice that there are no employees in the payroll. Click Add Employees. This will automatically show all employees in a window, who:
Have an active Position History

Have a terminated Position History - with the date of termination added in red

Have Country Malta set in their Position History
You may select the relevant employees one by one or all at once by clicking the checkbox on the left hand side.
You may calculate all selected employee's payslips all at once or one by one by clicking the checkbox on the right hand side.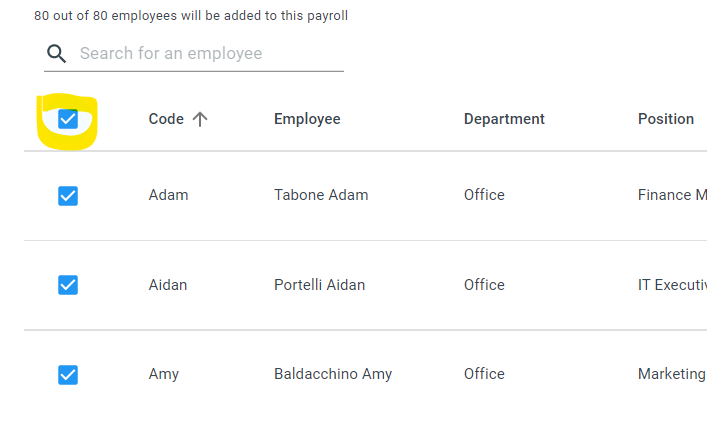 You may wish to add employees to the payroll but not calculate their payslip by selecting the checkbox on the right:

Calculating payslips in bulk
Once you are ready to calculate all employee's payslips in bulk you may click the button "Calculate payslips" at the top right hand side.

This will calculate all uncalculated payslips. It will not refresh any payslips that have already been calculated.
Once calculated, you may click on the name of each employee to access the payslip dialog: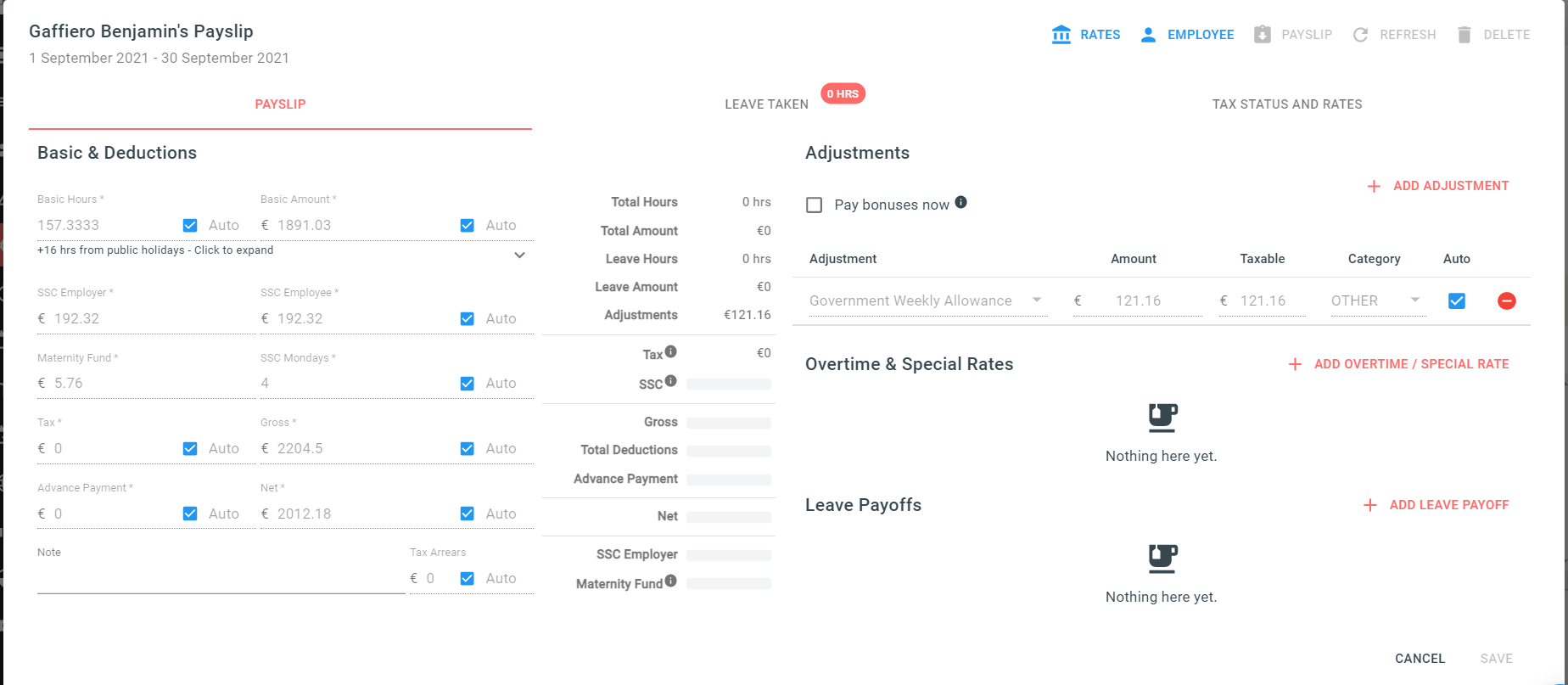 This section includes a breakdown of the basic hours on the left, a column for totals in the middle, and Adjustments on the right. Each value may be manually edited by turning off the 'Auto' checkbox.
Users can also click on the information icon for a breakdown of certain calculations such as tax and social security.
By default, the adjustments section will be automatically populated with the government bonus in March, June, September and December, as well as any allowances set in the employee's profile. However, users may add any ad-hoc adjustments by clicking on add adjustment.
Overtime can also be added by clicking on 'Add Overtime/Special rate'.
Finally, the leave payoff section is automatically populated whenever an employee is terminated and still has leave in their balance. Nevertheless, users may add a leave payoff at any time by clicking 'Add leave payoff'.
Bulk Edit
Users may also select to edit payslips in bulk by clicking on Edit and Bulk Edit of any particular payroll:

Here, any adjustments and/or amendments can be done en masse:

Payroll errors
If there is any missing data that is required for payroll (Ex. missing IBAN number), a message will show next to the relevant employee. Any pending issues need to be resolved in order for you to finalise payroll.
When all issues are resolved click Lock from the top right-hand side to finalise that month's payroll.

Then, click on Generate to generate the payslips, FS5, or any FS3s.
Please note that you must also set up your Payroll Settings in order for the company details to appear on the payslips and FSS documents.