Checklists are used to manage a task list in cases such as onboarding and offboarding of employees. These can help you stay on schedule and ensure that no task is left undone. With Checklists, you can assign different tasks to different people, while employees only view tasks assigned to them. You are also able to set deadlines for specific tasks or complete checklists.
You are able to create a checklist template, which would be useful as it will allow you to use the same template more than once.
What is a checklist template?
A checklist template allows you to create a checklist which will be saved and can be used multiple times as a template. When using the template, you are still able to edit accordingly, however, the original template will remain the same unless changed from the original template settings. To learn more about how to create a checklist template, click here.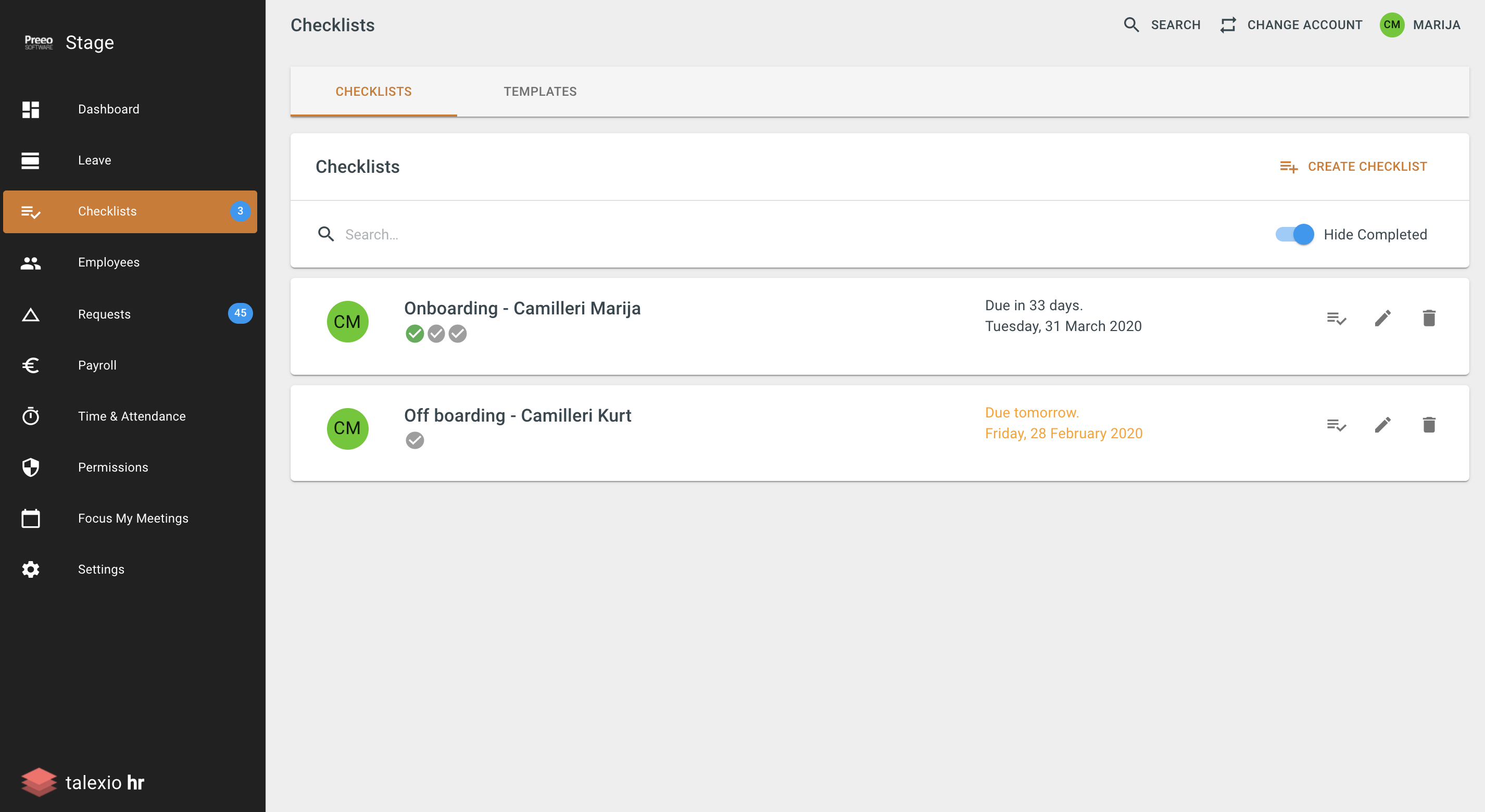 If the checklist or items in your checklist are due in a week or less, the due date will be orange to indicate that the checklist/item is due soon.

The due date will be red if the checklist is still not completed after the due date and marked as Overdue.
Checklist Features:
Create a template checklist

Create a new checklist

Assign a checklist to a specific employee

Request upload for a checklist item

Assign certain tasks in checklist to different employees: When assigning a task to different employees, each employee will only be able to access tasks assigned to them.

Set a deadline for when the checklist should be completed

Comment and chat using checklists threads
The following permissions are linked to Checklists
Manage Checklist Templates - Allows the user to add/edit/create/view checklist templates
Manage Checklists - Allows the user to add/edit/create/view checklists
| | | |
| --- | --- | --- |
| | Manage Checklist Templates Permission | Manage Checklists Permissions |
| Create Checklist Template | X | |
| Create New Checklist | | X |
| Assign a Checklist to a specific employee | | X |
| Request upload for a checklist task | | X |
| Set a deadline for checklist/checklist item | | X |
| Assign tasks to particular employees | | X |