A checklist is a to-do list that you can assign to your employees, peers, or yourself. To create one, please follow the below steps:
1. Go to Checklists section.


2. Click on the +Add New Checklist
button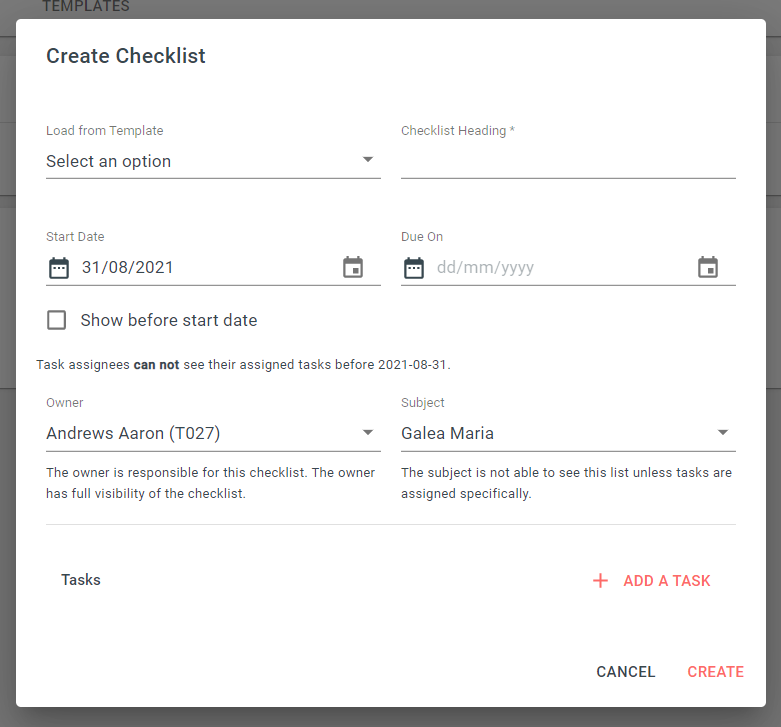 Here, you can fill in the details for your checklist, such as:
Loading a preset Template. Learn more about that here.

Inputting the checklist heading/name.

Adding a date from when the checklist should begin.

Adding a due date (i.e., the date by which the assigned tasks need to be completed).

Owner: the person responsible for the checklist. It could be yourself or any other employee. This is the person you are assigning the checklist to.

Subject: The person completing the checklist might have to complete a checklist for another employee. This will be the subject (for example, you need to onboard employee A. In this case, employee A will be the subject).

Tasks: here you can add the things you wish the subject to complete.
3. Adding tasks
Click +Add a task.
You can input the title of the task, for example, Upload ID Card. And if you click on the edit button, you can view more options: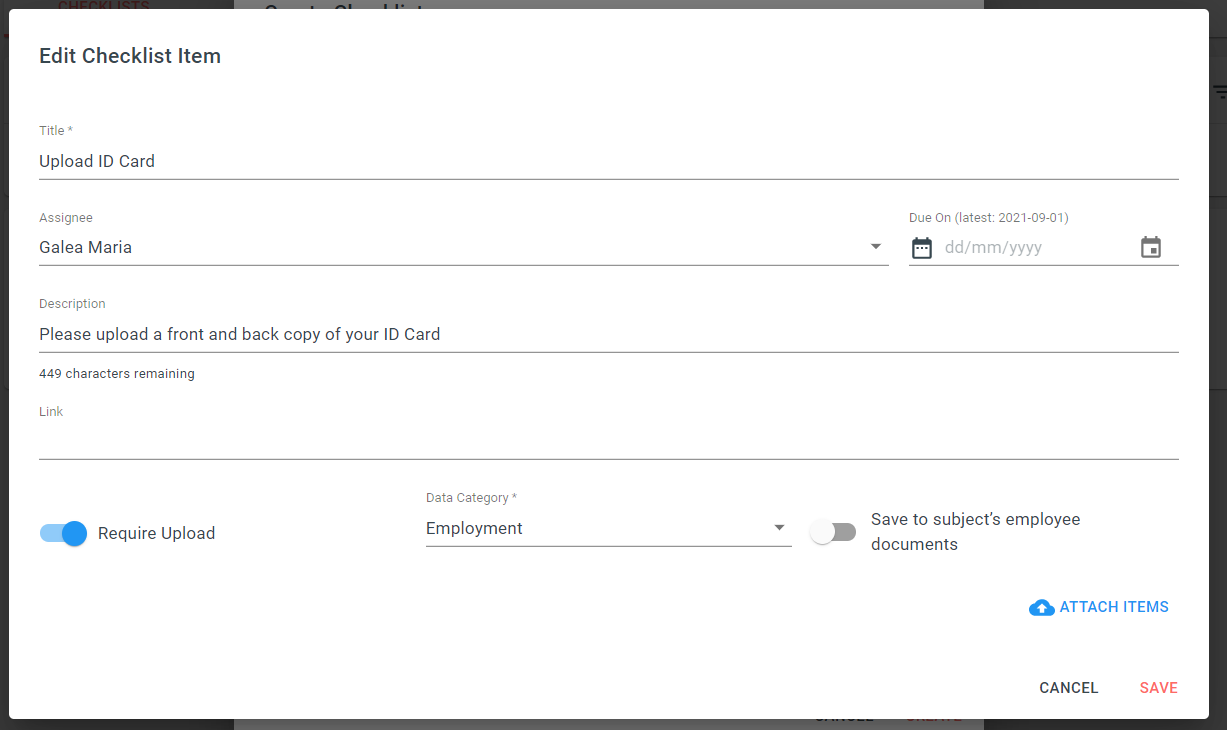 Here, you can:
include an optional description of the task.
include any links to a site you may wish the assignee to visit (for example, a link to a survey that must be filled in).
select require upload: this means that the assignee must upload a document before completing the checklist. Once the intended user receives the checklist, they will see a paper clip icon; this indicates that they need to upload something.

Once uploaded, the icon will change to indicate that an upload has been made:

select the data category for the required upload: for example, if the assignee must upload an ID card copy, then you can select the Employment category.
save in assignee's employee documents: this will save the upload to your Documents section.
attach items: this can be used for the creator of the checklist to upload any document which the assignee will be able to access in the checklist.
4. Click save
You have successfully created your first checklist!
Please note, checklists may also be edited at a later stage.
Once the checklist is created and assigned to an individual, that individual will receive an email with the checklist and the due date.
If a due date is set, the assignee of the checklist will receive an email notification to inform if certain tasks have still not been completed a day before the due date.