Overview
Company announcements allow you to send notifications/messages to the employees in your company. These may be scheduled for the future, and employees can receive them via email or view them directly on the system after they log in.
Permissions
You will need the 'Manage Announcements' permission to be able to send out Announcements through Talexio.
Creating and Viewing Company Announcements
Announcements can be accessed through two places.
Either from within your own dashboard (under notifications);
Through the Announcements section on the left menu bar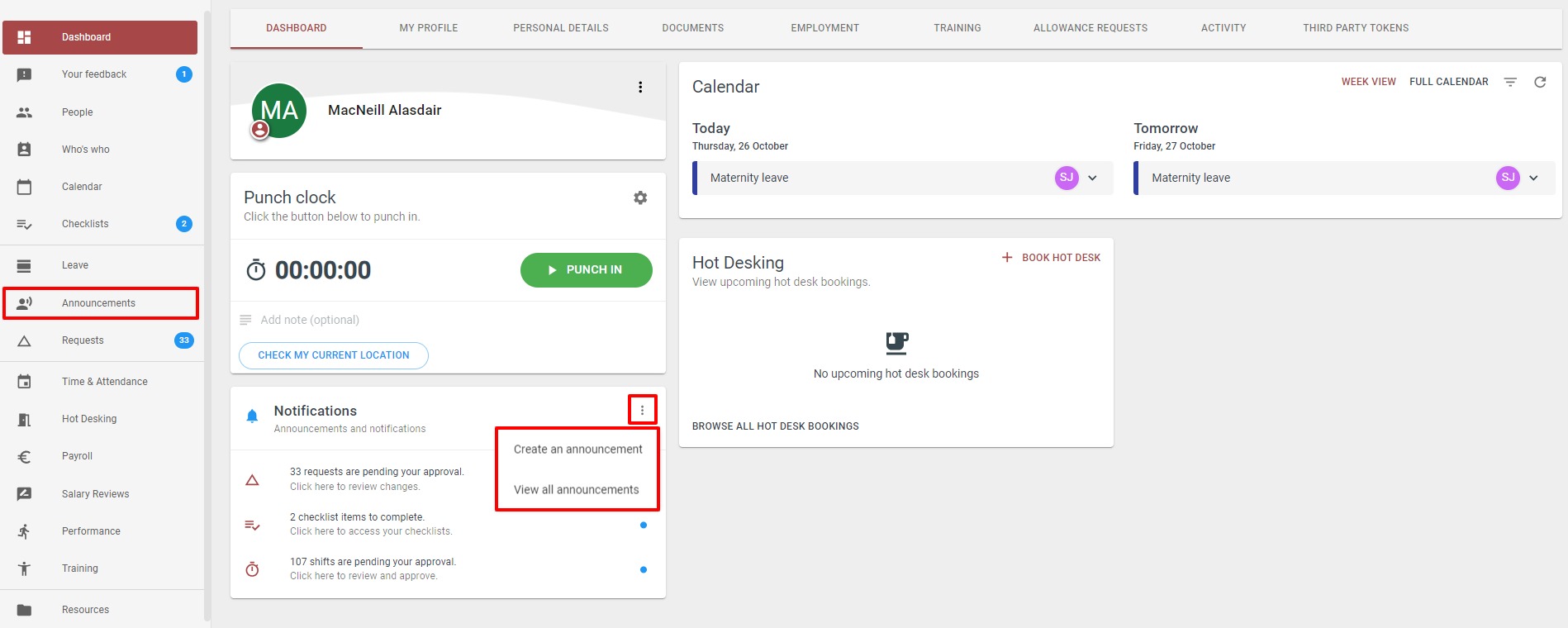 To create an Announcement you can either click on Create an announcement from the notifications menu or from Announcements click on + Add Announcement.

This will open up an announcement window where you can add all the announcement details:
Announcement heading: this is the subject line of the announcement to be sent out.
Publish date: this is the date and time when you wish the announcement to be sent out. You may schedule an announcement to go out immediately, or you may schedule one to go out in the future!

The Publish date must always be always be in the future of the current time. If you are creating and publishing an announcement at 14:00, the Publish date should be in the future of this time.

Expiry date: this is optional. Selecting an expiry date means that once this date and time elapse, the announcement will no longer show up on the recipient's dashboards.
Global/email notification: Selecting global means that the announcement will be sent to everyone within the company (IMP note: in order for employees to receive announcements, they will need to have access to Talexio. To grant employees access, follow the steps here).
Allow Emoji Reactions: switching on this switch will allow your employees to react to announcements.
Attach document: you may attach a document to the announcement for your recipients to open.
Filters: If you do not choose the Global option, then you may select whether the you want to send the announcement to particular employees, departments or countries. For department and country, employees whose current position includes the chosen department or country will receive the announcement.
Content: this is the main body of your announcement. Here you can input text, images, links, etc.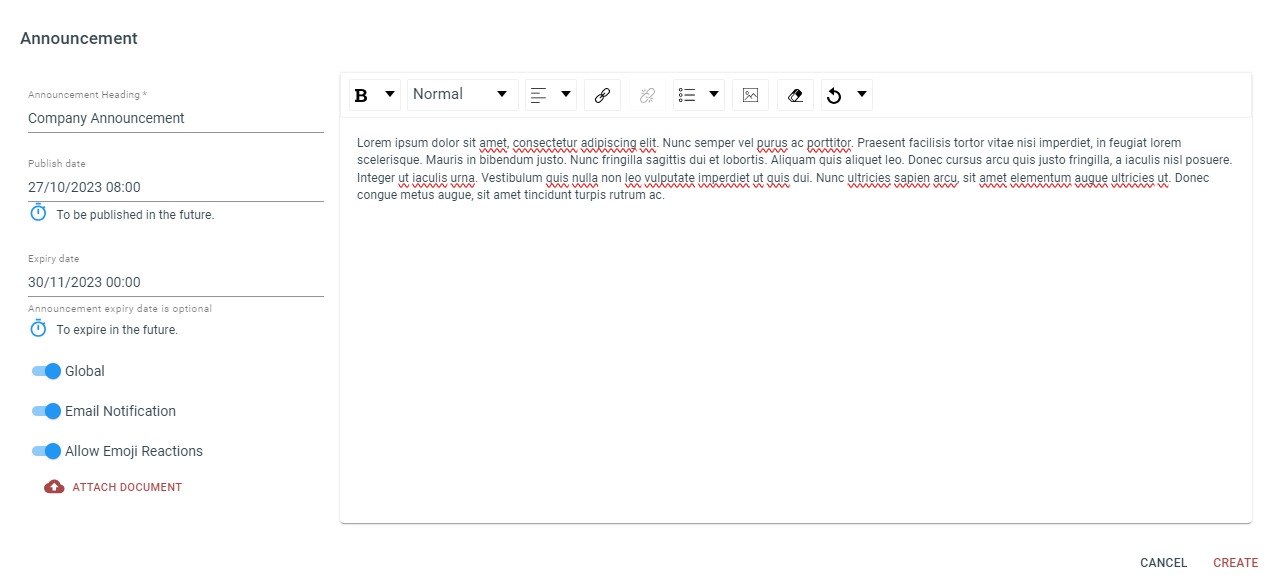 Receiving Announcements
Employees receiving an announcement via email will receive an email like the below:

By pressing on the Click here to view details button, they will be re-directed to their Talexio account, which is where they can view the announcement.
If an announcement is not sent via email, then employees can view announcements in their notifications: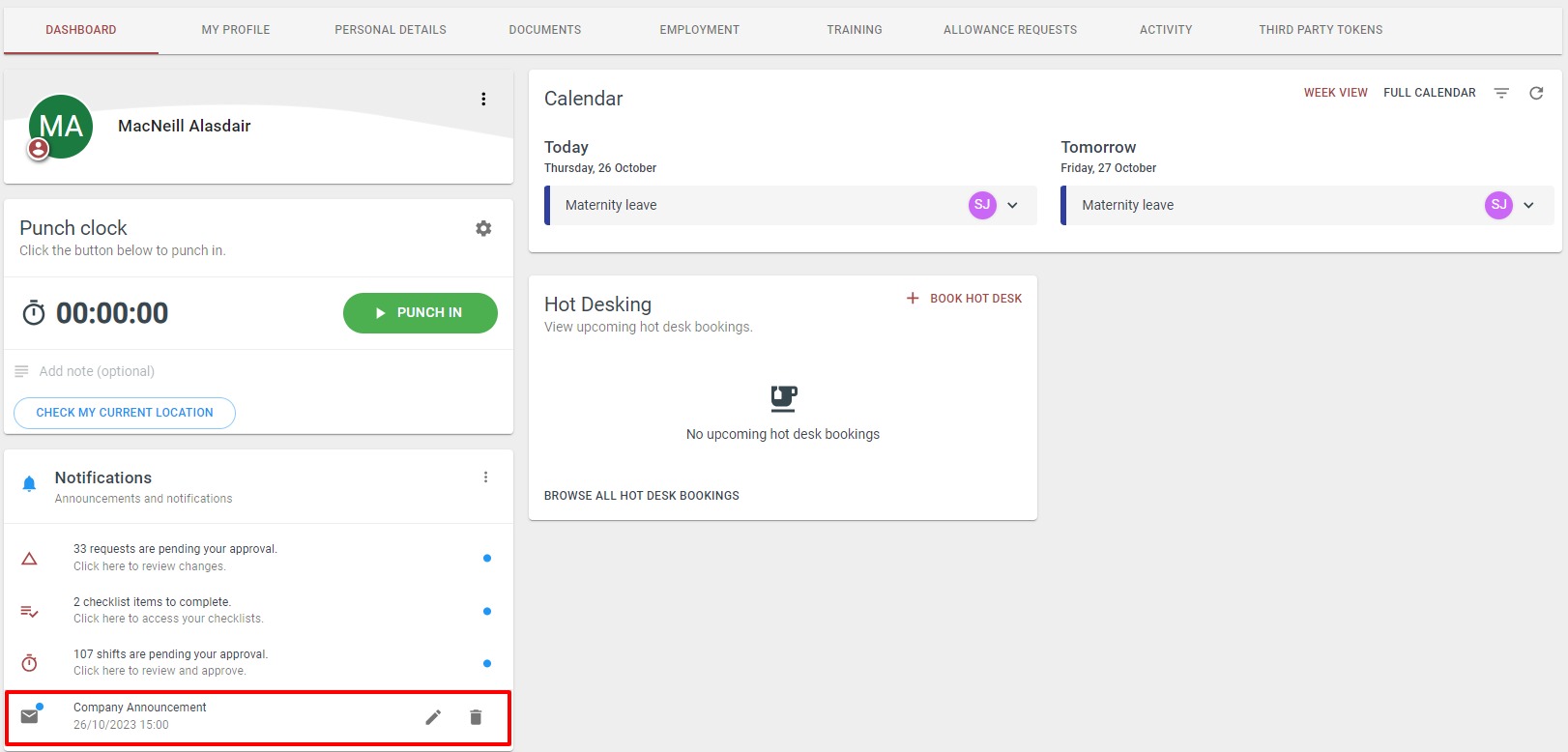 Employee Engagement
In addition to the emoji reacts, you may also see who viewed the announcement. Click show viewers on the announcement.