Overview
Before you start configure your shifts and populate the Working schedule, it is best to set up the shift templates. Shift templates are patterns of work for your employees.
Contents
Permissions
To make use of this you will need to have the 'Manage T&A settings' permission
How to set up
To set up the shift templates:
Go to the Scheduler section

Click on

Shift Templates (the third tab)

Click

Add shift templates

Fill out the details

Click

Save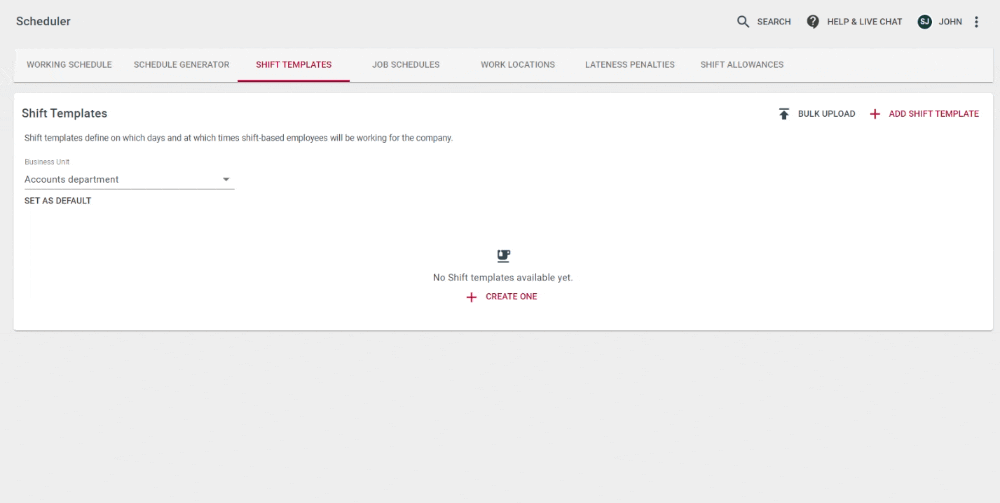 A shift template should be set up for each unique pattern within the organisation. You can create as many as are necessary. The shift template has four different sections.
Shift details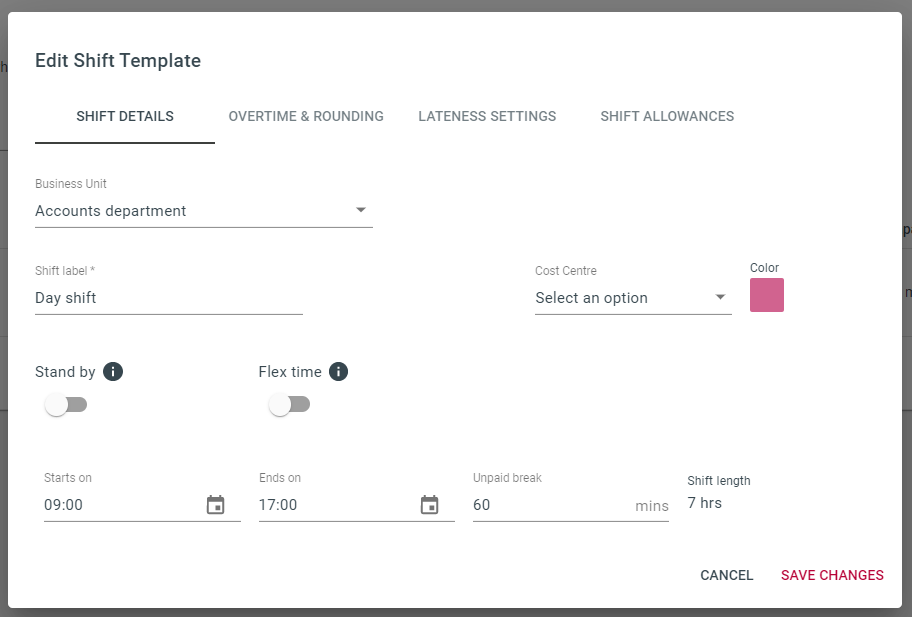 Business Unit - If you have more than one business unit set up on your account, you will need to link the shift template to the business unit applicable.
Shift label - This is the name of the shift template. For example: Day, Night.
Work location - A shift template is linked to a work location which will then match to the location from which employees punch in. Work locations will need to be set up from the Schedule section first.

Cost Centre - A cost centre chosen on the shift template will allocate hours linked to this shift, when a schedule is generated, to the relevant cost centre, when these hours are passed on to payroll.

Colour - This colour is used to differentiate between the shifts within the monthly view of all the schedules generated.

Standby - Standby shift is a type of shift which can be added as a standalone shift or together with another shift on the day.

Flex time - Flextime shifts will not require employees to clock in and out at specific times, but simply to work the shift duration selected.

Starts on/ends on - The duration/time in and time out, per shift template are determined here. Clicking on the icon at the end of the section determines whether it is a night shift or a day shift.

Unpaid break - The unpaid break is over and above the hours of the shift.
Overtime & rounding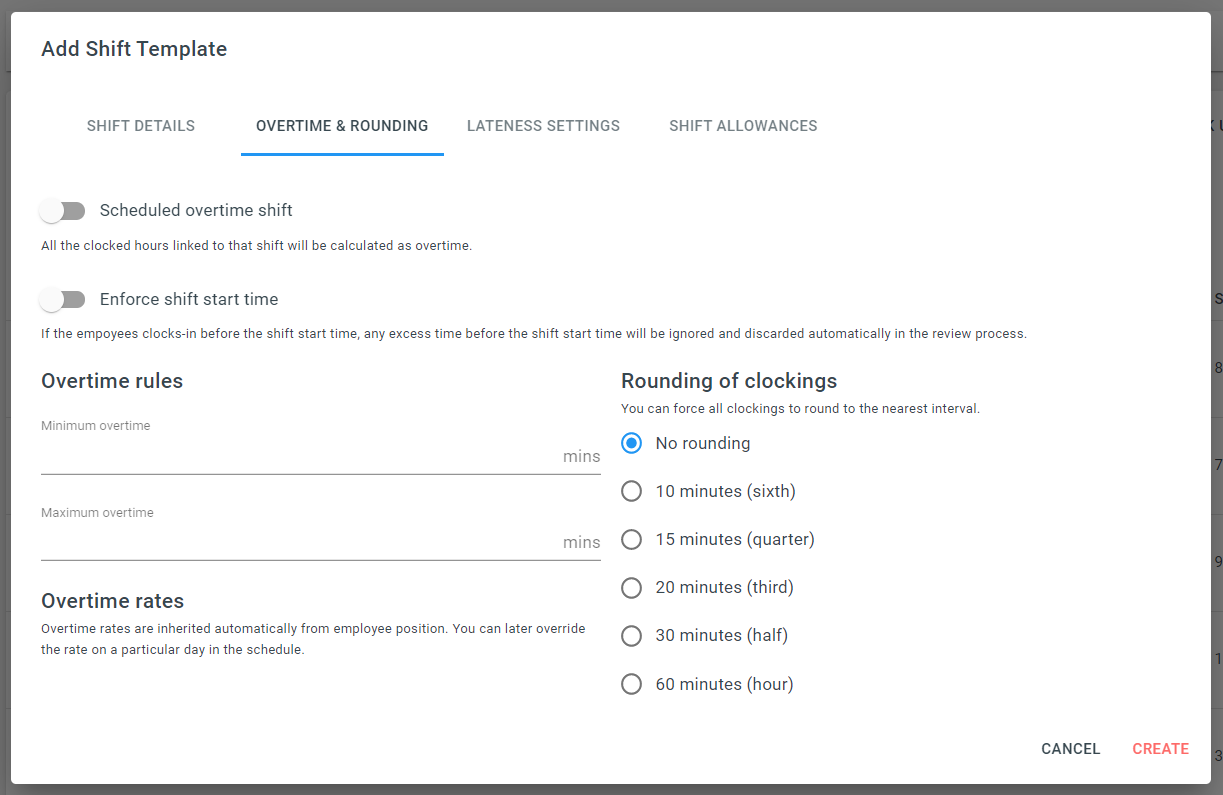 Scheduled overtime shift - you may wish to pre-schedule overtime in a shift.

Enforce shift start time - if the employees clock in before the shift start time (as set in the shift details), any excess time before the shift start time will be ignored and discarded automatically in the review process.

Overtime rules - This is the minimum or maximum amount of time required in order to log overtime.

Rounding of clockings - Rounding will impact lateness. If rounding is set, the employee may log in up to the identified time without this affecting their time log. Should they log in after the rounding time has elapsed, this time will be deducted from their time logged.
Lateness settings

Lateness - Enabling lateness will allow a grace period for employees to clock in. For example: shift starts at 8:00. Lateness enabled at 5mins. This means employees can clock in up to 8:05 without being penalized.
Lateness Penalty - If Lateness is enabled, you may also add a Lateness Penalty for all those who clock in later than the specified time.
Shift allowances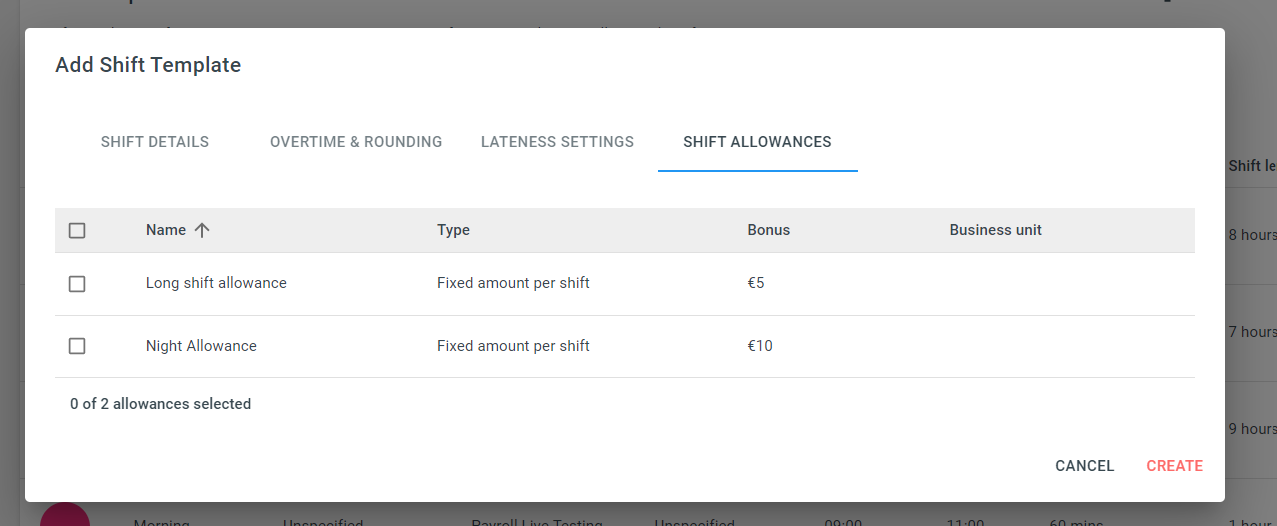 Shift Allowances - A specific shift allowance can be added to a shift template. These need to be set up first and then selected on shift templates.

What's next?
After setting up your shift template(s), you may assign them to employees in the schedule generator and working schedule.