This article is relevant for users who have both the Payroll and the T&A module.
Setting up employee position history settings
In order for the approved time logs to automatically impact payroll, you first need to set up the employee position history settings. Read more here.
Setting up shifts and schedules
The next step is to set up your shift configuration and publish your shifts. Read more here.
Review & Approve
Once the above is set up and clockings are being linked to shifts, you will then need to approve these clockings. Read more here.
Time log period
On creation of payroll, there is the option to select the period of approved time logs which you would like to add to that payroll. Not selecting a time period will result in the time clockings defaulting to the payroll period.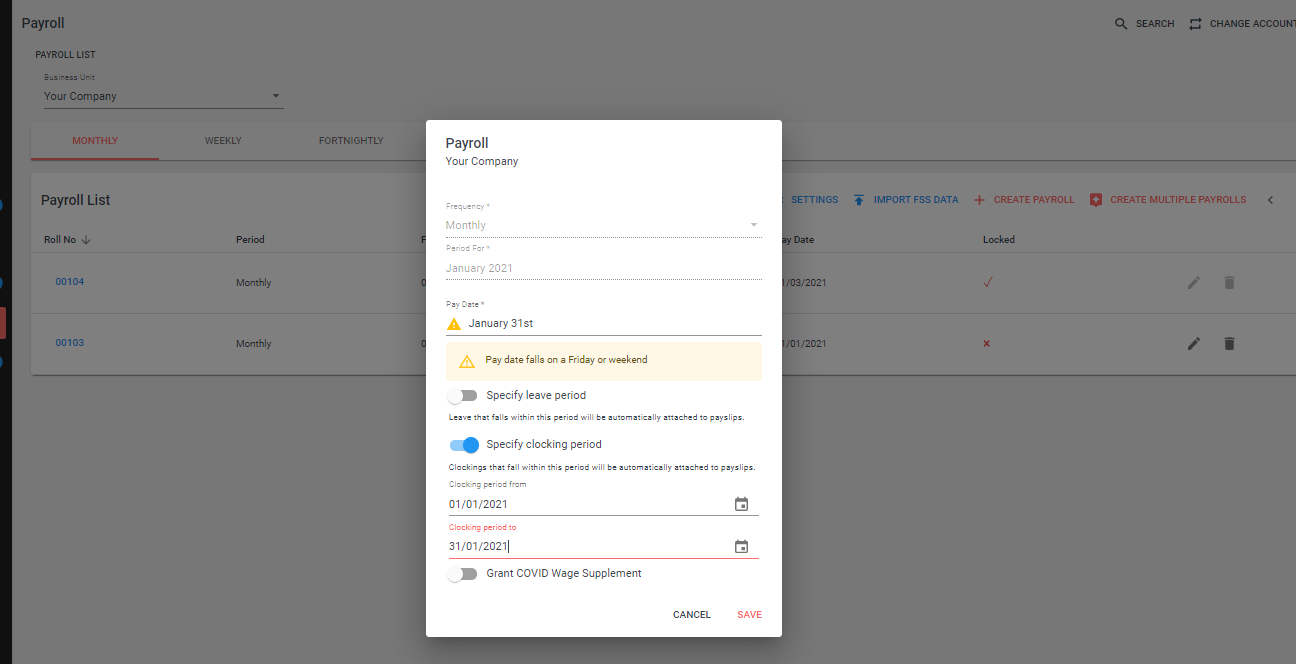 Payslip
Any time logs approved in the Review & Approve stage, will be shown on the payslip in the Time & Attendance tab:

Basic Hours: If the settings on the employee's position history are set to auto approve basic hours in payslip, the Basic Hours field will show as zero, since any approved hours will be shown as Special Rates as above. However the Basic Hours field will include any hours that the employee needs to be paid for such as Public Holidays. If approved clocked hours + leave hours + overridden payslip hours is less than the number of hours that employee should have worked during that period, the below warning will show up, highlighting that the user has missing hours in that payslip.
Approved Basic Hours: These will show as Special rate and show in the Total hours
Overtime: This will show as Overtime hours (i.e. Special Rate disabled). The Rate at which they are paid (100%, 150% etc) will be based on the settings provided in the employee's position history and the date of the clockings added to the payslip. If different overtime rates apply or the employee had a change in salary and therefore different hourly rates apply, you will see more than one Overtime row with the different rates and/or hourly rates.