At the end of each year, or when an employee is terminated, employers are obliged to give their employees an FS3.
The FS3 form can be generated from:
FS3 can be generated for employees from the Documents section of each individual employee.
In the case of end of year FS3s, such can be generated from the End of Year Wizard (after all payrolls of the year are locked).
Users also have the option to generate the FS3 of any terminated employee directly from the payroll period in which they are terminated. This can be done by going to the Payroll section, selecting the Payroll period, locking it, and clicking Generate. From the list, select FS3.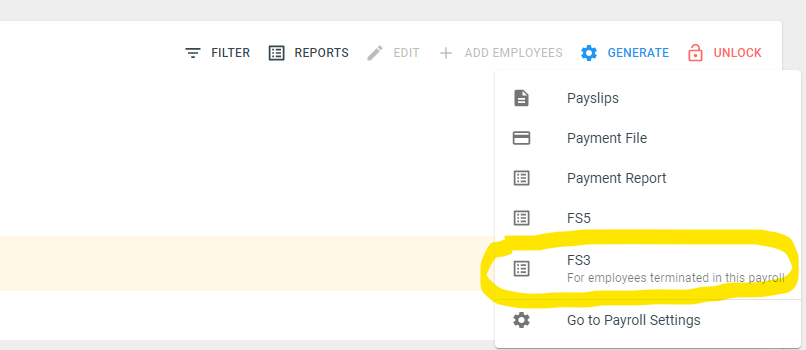 Doing so will generate the below dialog. From here, users can select the employee (or employees in the case of multiple terminations) and choose whether to download the FS3 and/or save it to the employee(s) documents on Talexio. Selecting Generate & send will complete this task and send the FS3 to the employee via email.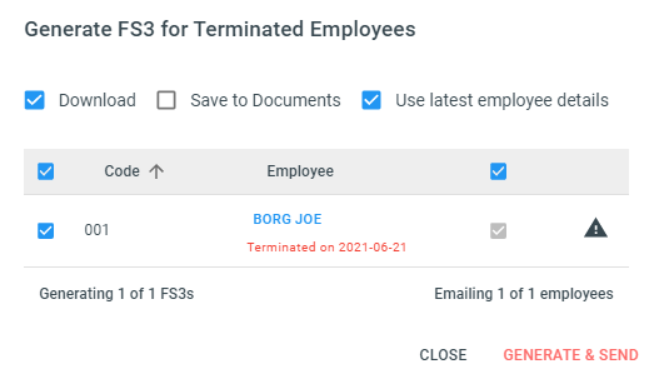 To ensure that the FS3s are signed, users can upload the company principal's signature from the payroll settings.