Overview
Employees are what make up your company. Employees are displayed in the People section of your Talexio account. For information on how to add employees, check this out. But how do you add positions to an employee profile?
An employee may have multiple positions. This is known as the employment position history of an employee within your company. On Talexio an employee is linked to one account and any changes to their role are reflected within the same profile (Ex. change in job schedule from full time to part-time, change in marital status etc..).
Contents
Permissions
To add employees to Talexio, you will need the Create Employee permission (on global) and View/Manage All Employee Data. If you want to add an employee (including their position and salary details), you will also need the Manage Employment Position History permission.
A new employee profile can be created individually or else uploaded in bulk via the onboarding assistant.
Adding Positions
If you are creating a new employee from scratch, you will first need to input the employee's details.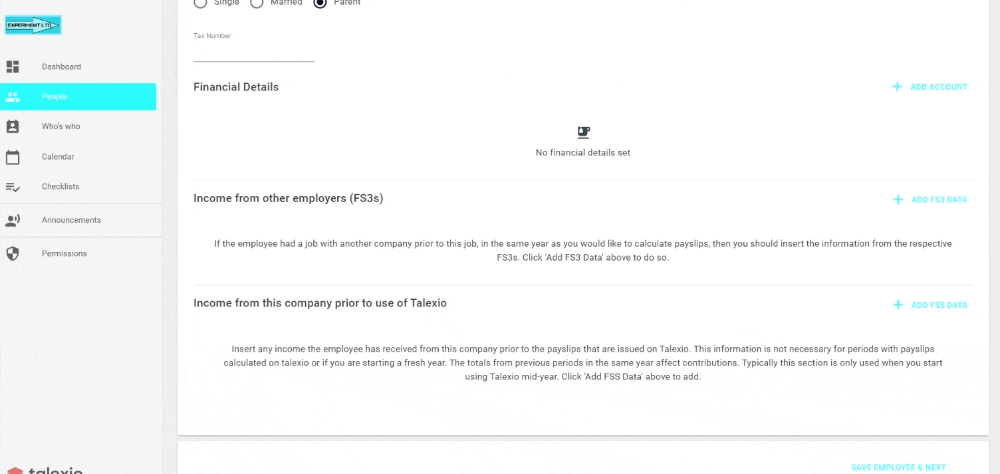 Alternatively, if you have already inputted the employee's details, you may locate the employee's profile from the People section and input their details using the steps below:
Locate the employee and click on their name to access their profile;
Click on the Employment tab;
Click +Add Position: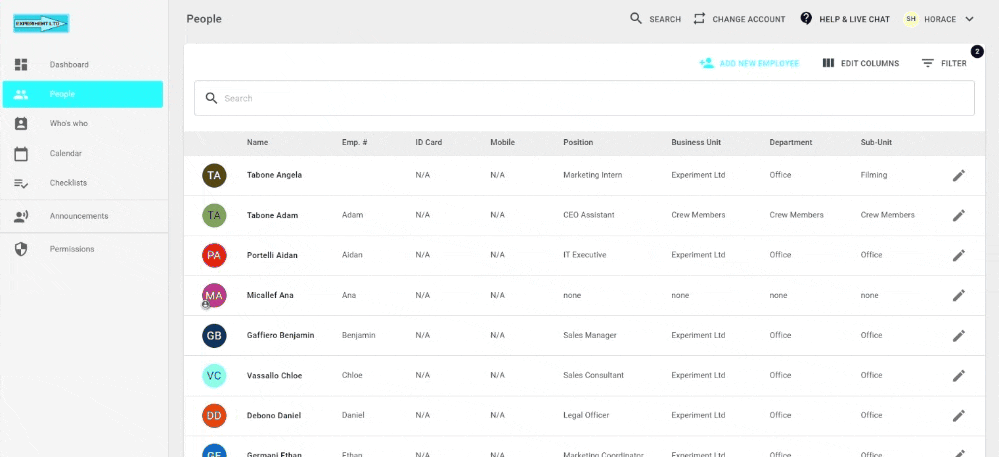 A window will pop up with 5 different sub-sections (or 4 if you do not have the Time and attendance module enabled):


Job Description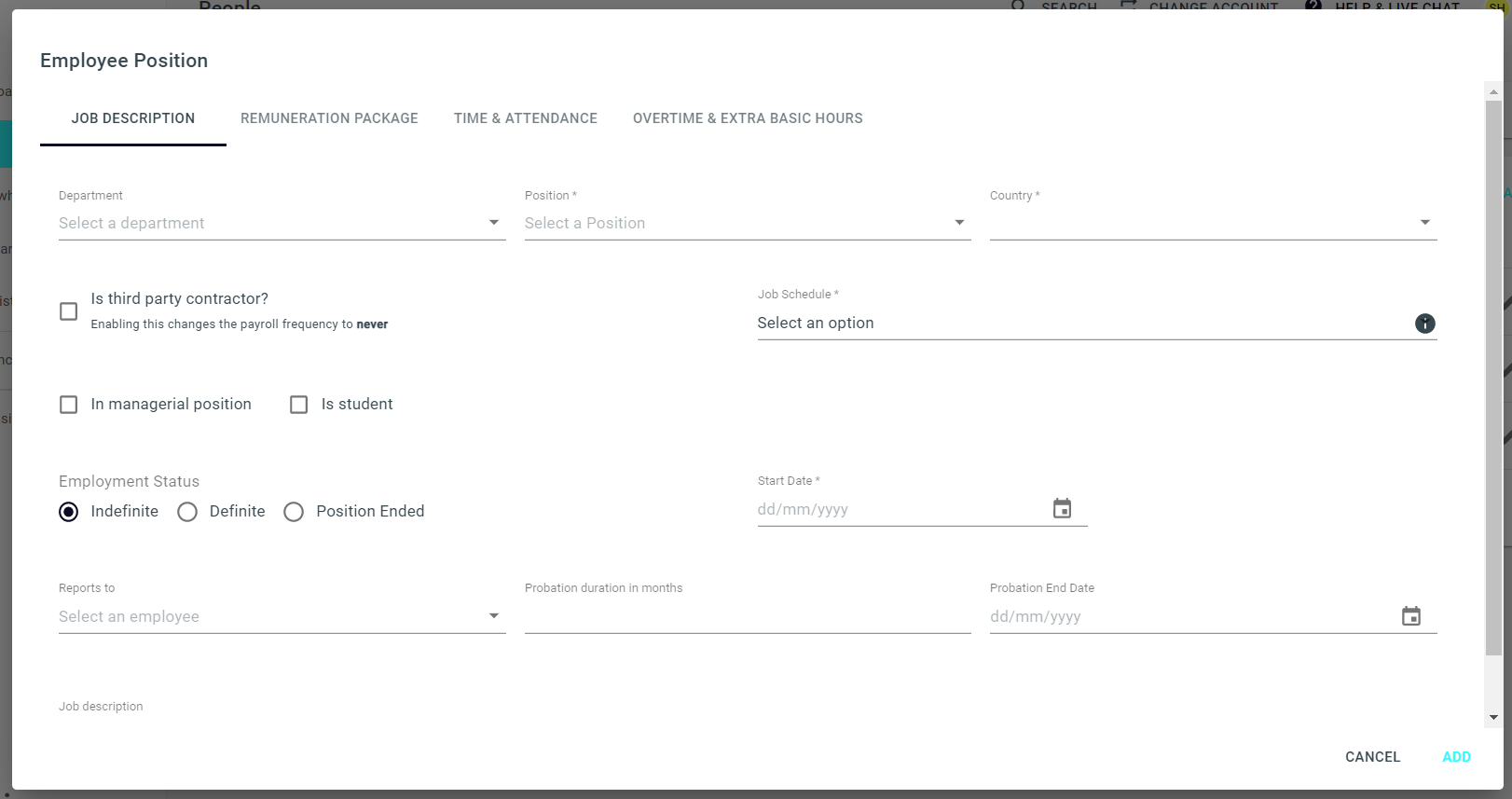 You are required to input the employee's department, position name, and country of employment.
Other mandatory fields are the employee's job schedule and the start date (the date the employee begins working this position).
You can also (optionally) specify if the employee is a third party contractor (selecting this option will automatically set the employee's payroll frequency to never. Check out Other Payroll Information - point 4 - below for more information), in a managerial position, or on student apprenticeship. And if the employee should report to a manager/other employee, you can input such employee(s) in the Reports to field. Please note that the Reports to field does not determine how leave approval will work. For more information on leave permissions, click here.
Additionally, you may input the probation period and date, as well as any job description.
Once this data has been inputted, click on the second tab.


Remuneration Package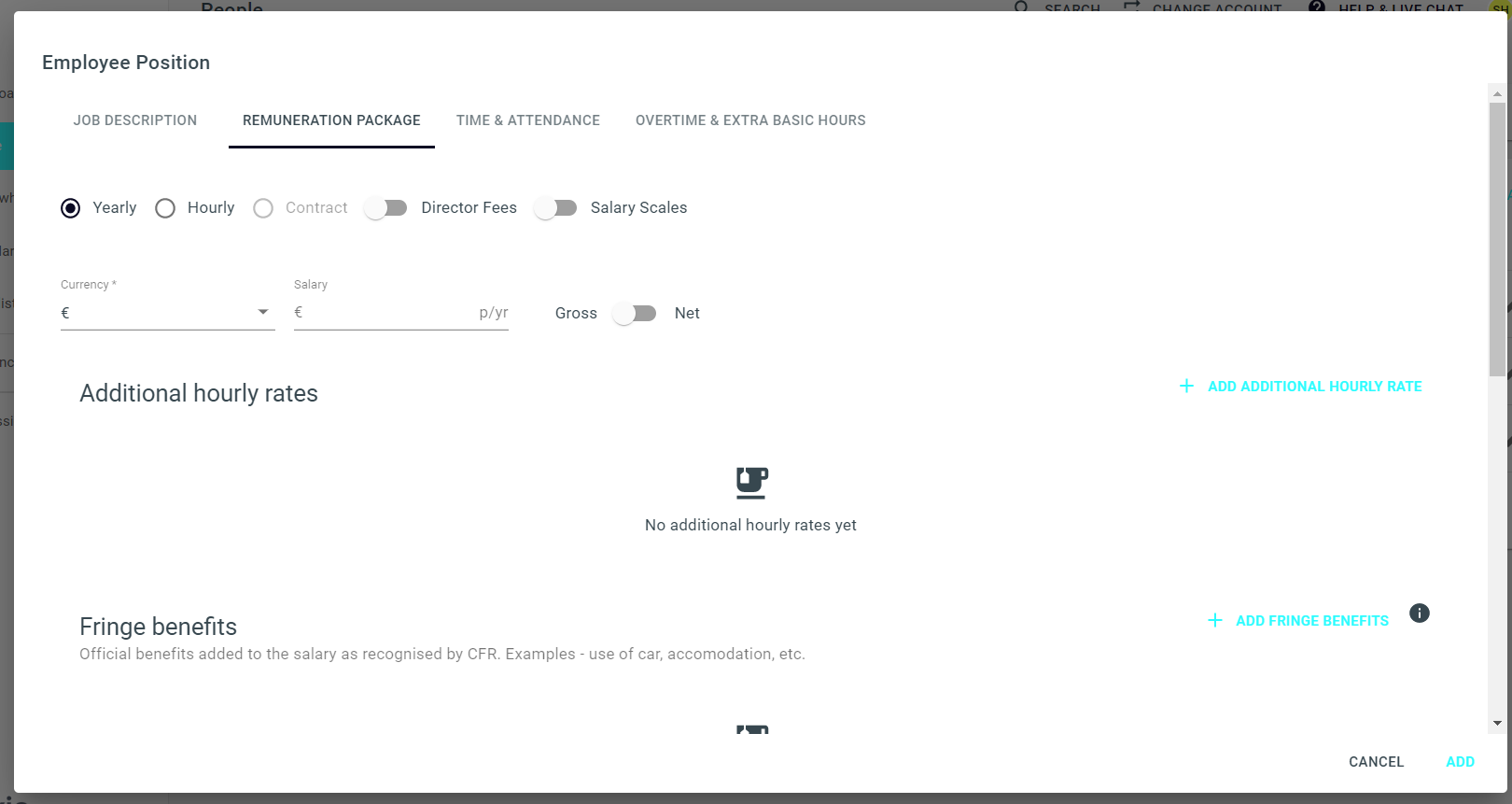 Here, you need to specify the employee's annual or hourly salary, the currency of such salary and director fees (if any).
Additionally, in cases where part of an employee's normal schedule includes working hours at a different hourly rate, you may add such additional hourly rates in the +Add additional hourly rate section. Here, you can add work codes.
You may also assign fringe benefits and/or adjustments/allowances to the employee by clicking on the +Add fringe benefits and +Add adjustments buttons.
This brings us to the third tab.


Time & Attendance

This section is only available to those who have the Time & attendance module enabled.
Switching on the Enable time & attendance button enables employees to record their time using the physical or online punch clock.
Hide from approval step: selecting this means that the employee needs to punch in and out of work, but such clockings will bypass approval stage and are only used for reporting purposes.
Use approved basic hours in payroll: selecting this means that the employee will be paid on the basis of his/her approved basic hours. Leaving this unticked means that the employee will be paid on the basis of his/her job schedule hours (for example, an employee working on a full time 40 hour basis would be paid on 40 hours per week, even if s/he clocks in 39 hours).
Use approved overtime hours in payroll: selecting this means that any hours punched in over and above the employee's normal scheduled hours will be included in the payroll as overtime (once approved).
Clocks out for break: this applies for employees whose shift includes a portion of unpaid break. Switching on this button means that the employee needs to punch in and out twice during a day (with the time in between being the break). In cases where an employee has an unpaid break but this button is not switched on, the system will automatically deduct that portion of the unpaid break from the clocks hours. For more on shift templates, click here.
Use personalized rotation: this is used to assign a rotation shift to an employee. For more information on this, click here.
This brings us to the fourth tab.


Overtime & Special Rates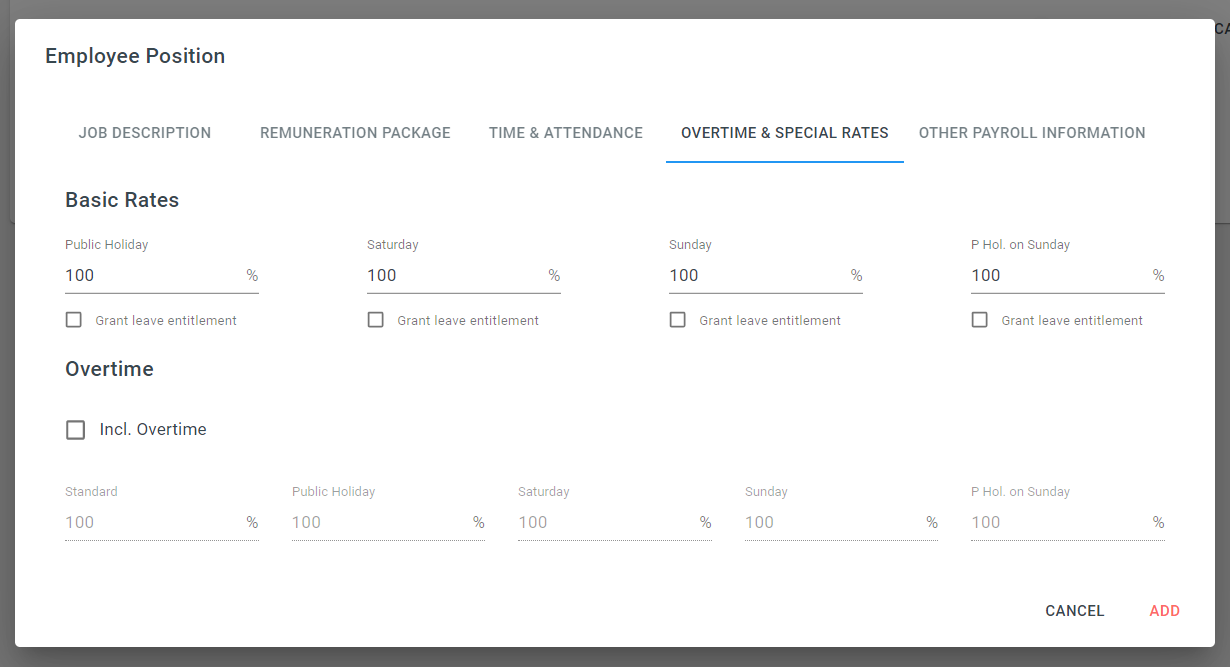 In this section, you may set the rates for weekends and public holidays, as well as choose whether to grant employees leave entitlement for any days worked during weekends or public holidays.
You may also set overtime rates by enable the Incl. overtime button and setting the rates. For more on this, click here.


Other Payroll Information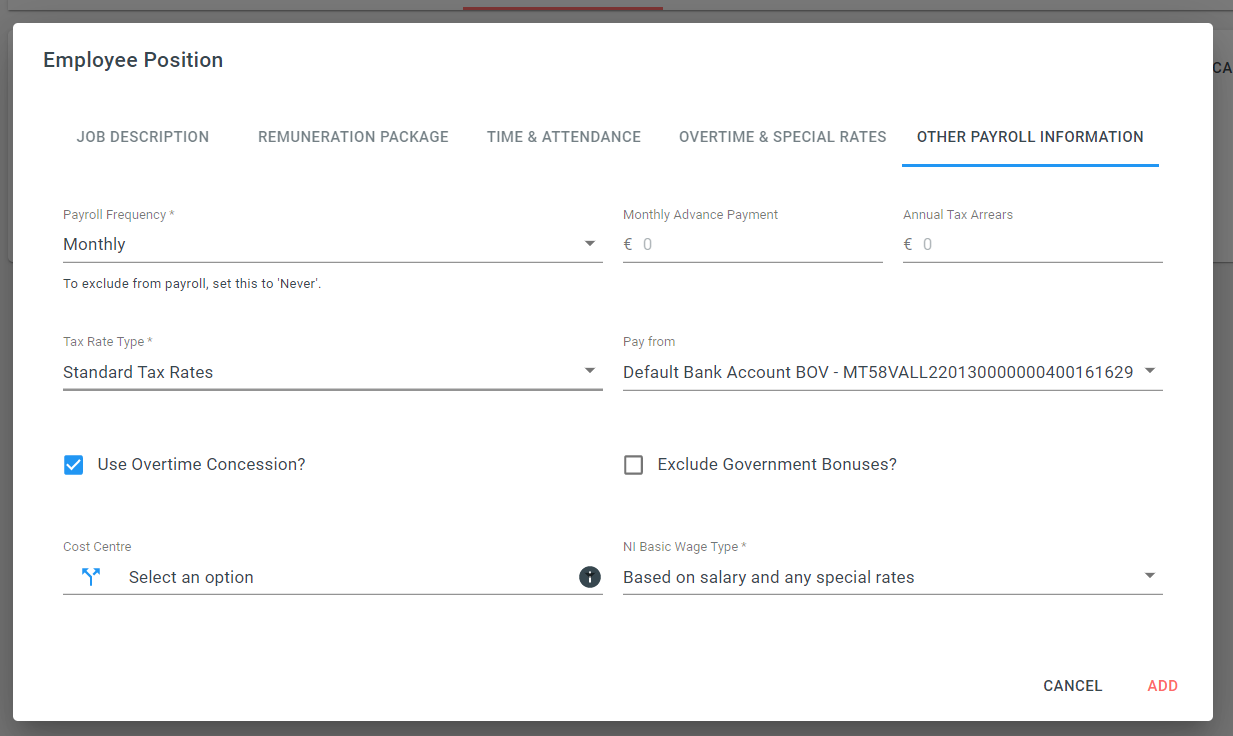 The final section of an employee's position specifies the payroll frequency (monthly, weekly, fortnightly, four weeks, or never). Please note that if you select never, the employee will not appear in payroll.
You may also include any monthly advance payments, the tax rate type (standard tax rates applies for employees who are taxed under the normal single, married, parent tax regime), and the bank account through which their salary will be paid.
You can also select the cost centre, if any, and the way NI will be paid.
Finally, clicking add will complete the position:


Editing Position
To edit a position, click on the edit icon next to the position. Adding multiple positions will display the employee's trail: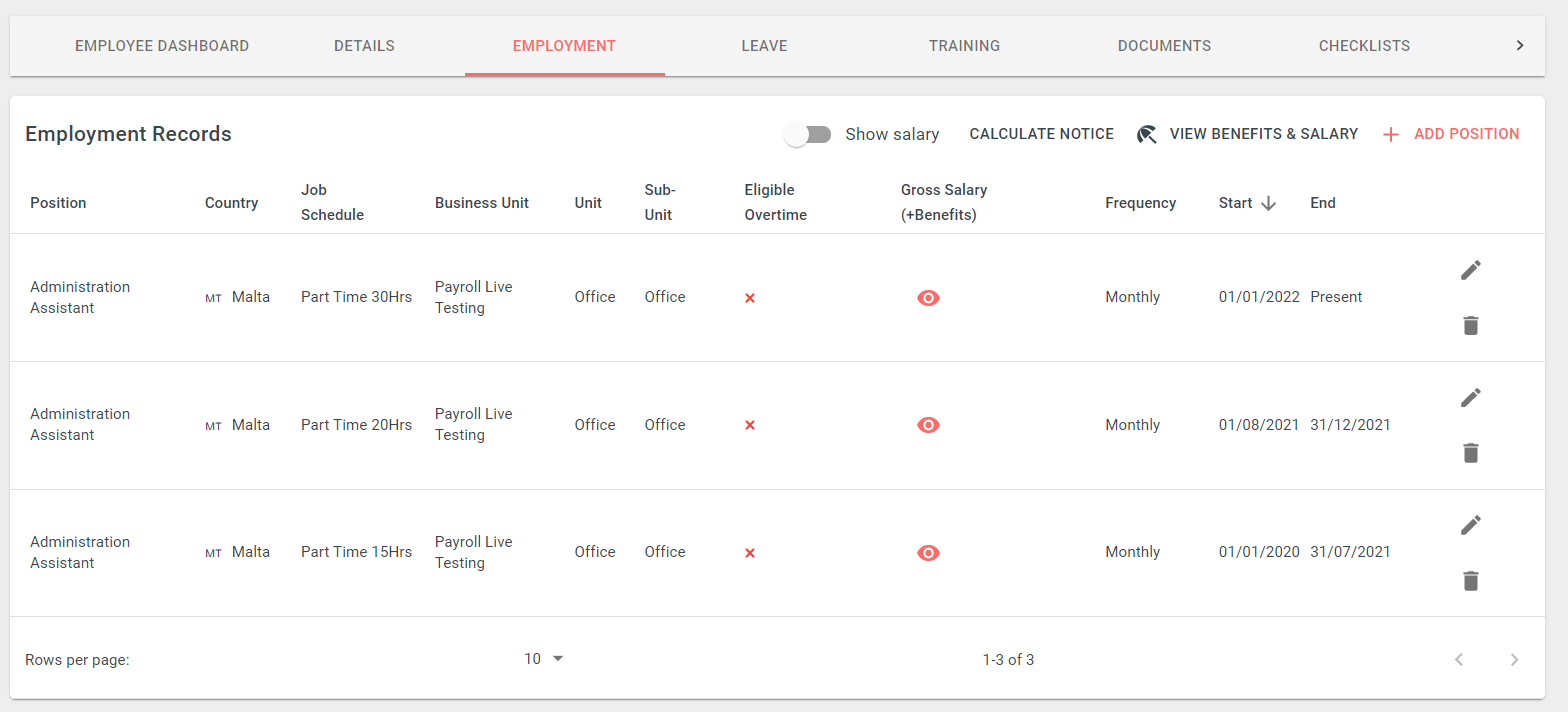 Having a trail of positions linked to one account means that you do not need to create a new profile each time an employee changes position/schedule/salary/etc. It also serves a good history of the employee's time at a company.
Click here for detailed information on how to edit a position.
Related Articles