Overview
The Organisation Chart on Talexio HR shows the structure of your business in the system for the purpose of assigning employees to these Organisation Units and directly relates to assigning and managing permissions on the system.
Permissions
The following permissions are related to view and amend the Organisation Chart:
View Units

- This permission allows the user to view the Organisation tab, in the Settings section.

Manage Units - This permission allows the user to add/edit/delete/approve changes to organisational units.
Organisation Chart Overview
One of the first things that needs to be set up on Talexio HR is your company's organisation structure. An Organisation Chart is a structure of your company's departments (referred to in this article as Units). An example is shown here:

Before creating your Organisation Chart, you will need to understand the following terms:
Business Unit - A business unit is defined as a Company or Department with a separate PE number, and therefore has it's own payroll and settings. A Business Unit can be distinguished from other Units by its darker shade of blue.
Parent Department - The Parent Department refers to the Unit that another Unit is nested under as a Child Department.
Priority Department - These Units will show in different reports in the system to show this as the Main Department/Unit all sub-units belong to. This is shown on the Organisational Structure with a Flag.

Creating the Organisation Chart
New Units can be added from the main Organisation Chart or from a specific unit where you would like to add a sub/child unit.
From the Organisation Chart, there is the button + Add New Unit.


When you click on this, the Add Unit dialog appears. Here you will add all the relevant date for the new unit.



When you expand the details of a Unit, you can click on the + button to add a sub unit directly to that unit.


When you click on this, the Add Unit dialog appears. Here you will add all the relevant date for the new unit. With this dialog the Parent Department will already be completed with the name of the unit you clicked on in the previous step.



Units may also be set up in bulk using the Onboarding Assistant.
Filters on the Organisation Chart
By default, the Organisation tab will show you any Units/Departments that include employees. Once you have selected the filter you need, this will be same filter applied for the next time you visit the Organisation tab.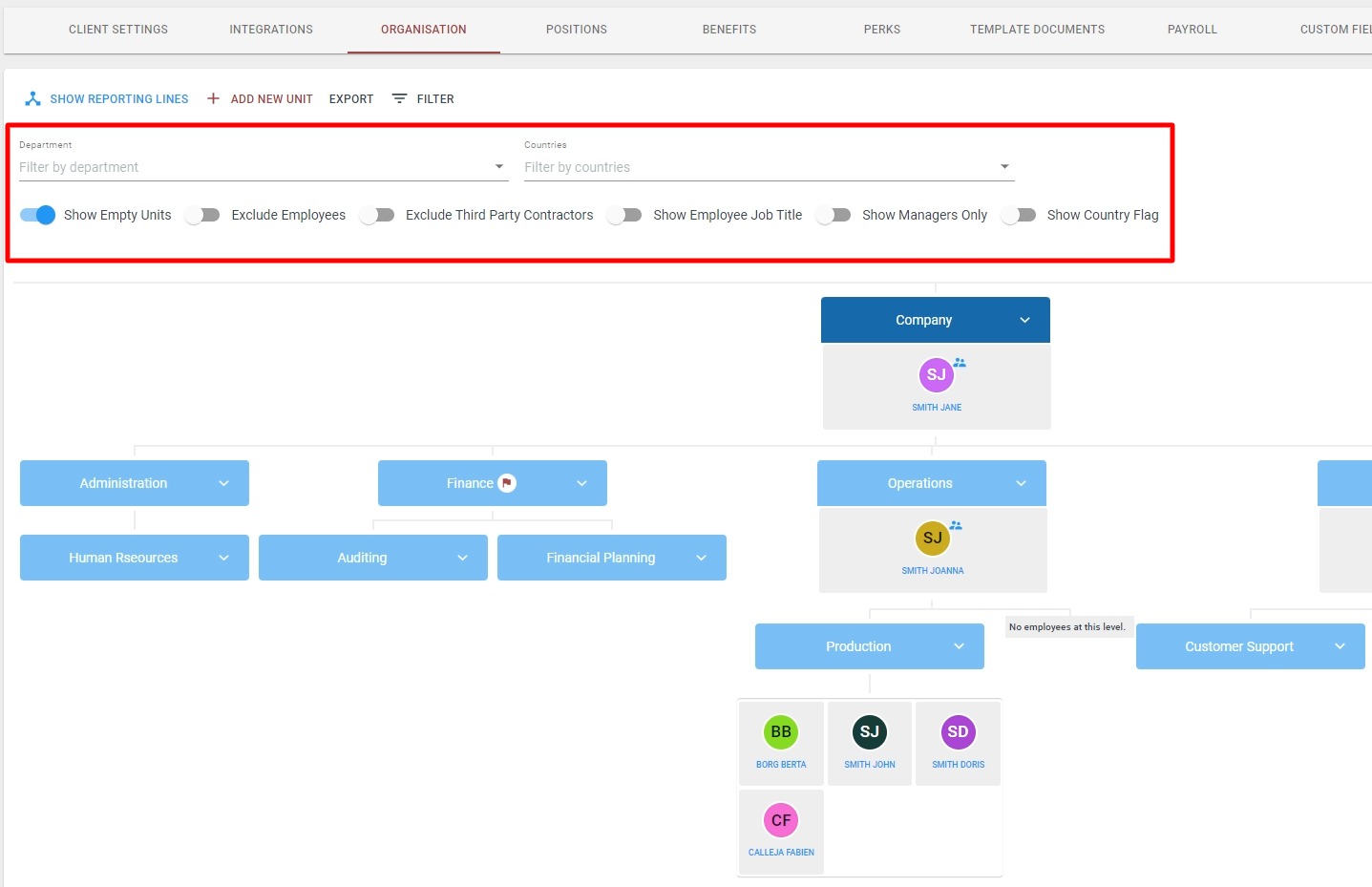 Exporting the Organisation Chart
You may download the Organisation Chart with the click of a button. Simply click Export, the organisation chart will be downloaded as a PNG file: