Overview
The Working Schedule shows the roster (or schedule) of all relevant employees. Their schedule can be based either on a fixed job schedule or else a roster is generated every so often and presented to the employee in advance, prior to their shifts.
For employees whose schedule is not fixed, users need to generate a schedule (per day/week/month).
For those whose schedule is consistent (for example, they work Monday, Wednesday, Friday every week) you may set up a fixed pattern once without the need to generate a schedule every day/week/month. For more information on how to create a fixed schedule, click here.
Contents
Permissions
To be able to use this feature, you will need the following permissions:
Manage T&A Working Schedules;
Manage Time and Attendance Settings;
View/Manage All Employee Data;
Manage Employment Position History or Manage Employment Position History (excluding remuneration).


How to set up
Upon creation of an employee, you may assign a personalised rotation shift to the employee. For more information on rotation shifts, click here.
To assign a rotation shift to an employee upon creation of their profile, you need to go to the Time & attendance tab in the employment position.

On the right hand side of the dialog box, you will need to switch on the 'Use personalized rotation' toggle.
Next, set the start date for the rotation shift (i.e. the employee's first shift) and select a personalized rotation template. These can be set up from the shift templates tab in the Scheduler section.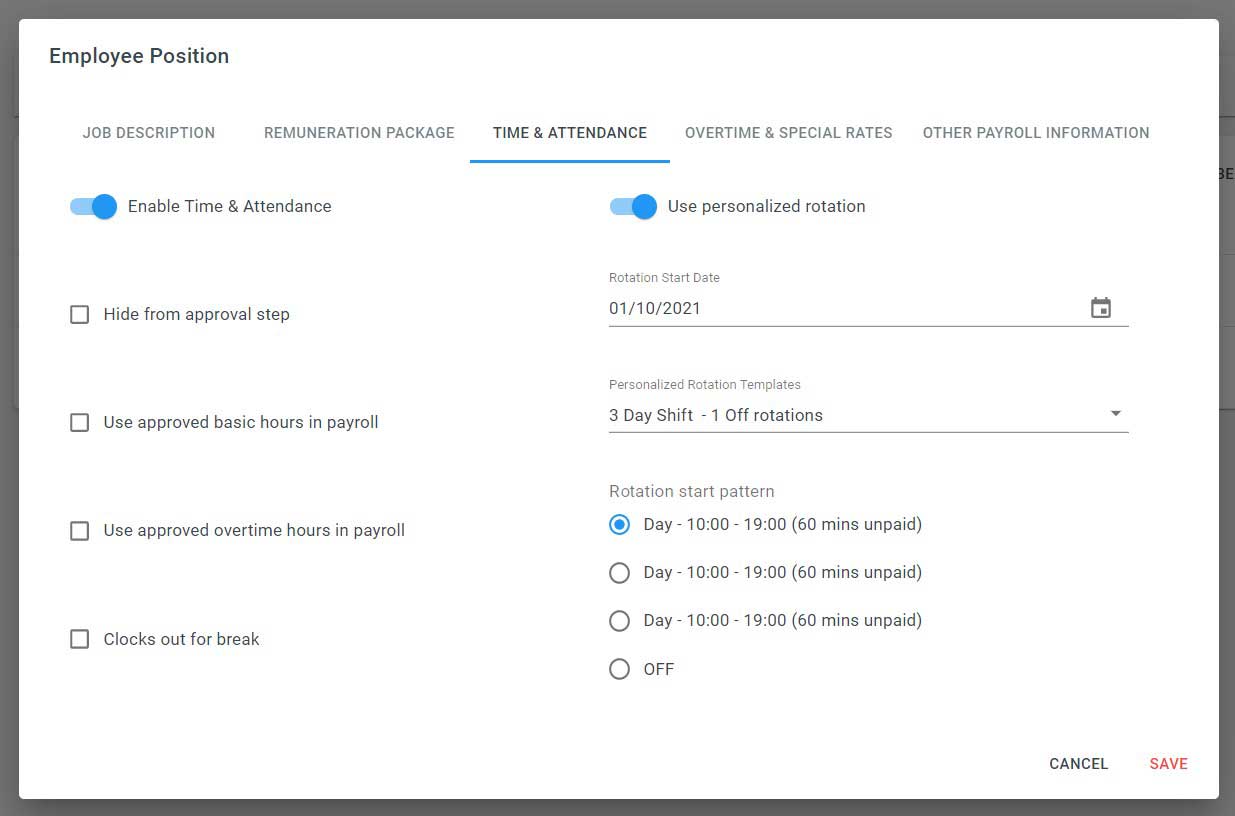 Select the first rotation shift and press save. You will then need to generate the roster. Based on the rotation pattern set, the rotation will carry on from the last day of the rotation.