Overview
Calculating your company's payroll can be quite cumbersome if you need to add a lot of data each time. Thankfully, using Talexio's bulk edit function, you may import data quickly and easily!
Generate payslips for your employees;

Distribute payslips via email and/or save them to employees' Talexio profiles;

Download reports;

Generate FSS documents (such as FS3s, FS5s and FS7);

Generate electronic lodgement files for end of year FSS submission.
Permissions
To make use of this module's full potential, you will need to enable the following permissions:
Manage payroll;
Generate employee FSS documents;
Manage benefits;
Manage employee payroll details; and
View employee payroll details.
For more information on permissions, click here.


Sections
So where can you find the Payroll module, and what can you do in it?
First off, the Payroll module can be accessed from the side bar on the left:

Clicking on the Payroll module will present you with the below view: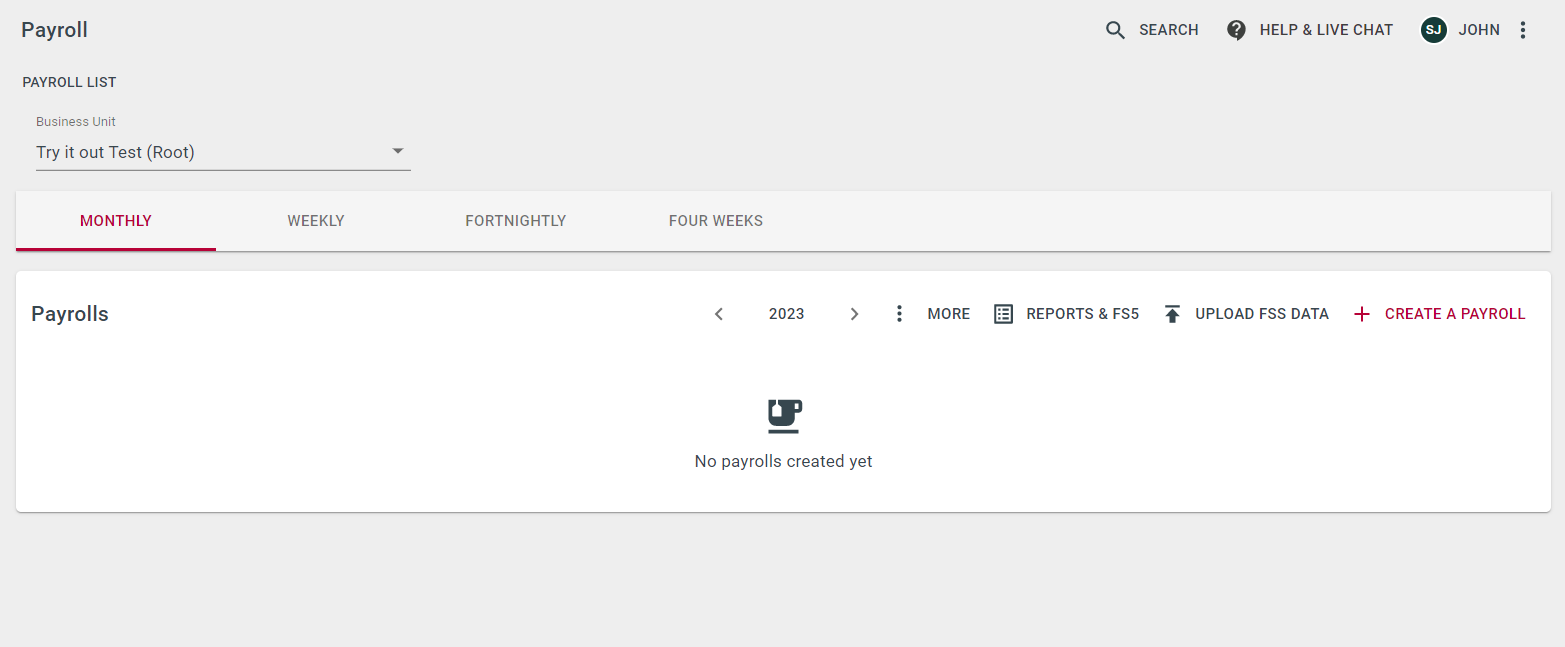 There are four tabs here (monthly, weekly, fortnightly, and four weeks). These refers to the frequency of your payroll runs. By default, the monthly view will always load first when you enter the Payroll section. However, you can set any other frequency as the default view:

Once you have decided on your default view, you can see a number of different functionalities. These include the following:
This button is the most crucial part of the module. For information on how to create your first payroll, click here.

This button is used to upload FS3 and FS5 data of your employees and company in bulk. You may want to do so if you start using Talexio after the beginning of the year or if you onboard new employees at any point during the year. For more information on this button, you can check out our article on the onboarding assistant (scroll down to the bottom of the article for information on previous payroll data).

Here, you may download the following:

Payroll totals report;
Adjustments report;
FSS calculation report (a report on the tax calculations of each employee);
FS5 report;
Payslips;
here you will find the below options:


2022 calculation rates: here you can view the tax, NI, and bonuses brackets and rates for the year;
Create multiple payrolls: you can select this to create payrolls in bulk;
End of year wizard: click here to start the end of year submission process. Click here for more info;
Payroll settings: this is where you can set up the company's address, PE number, etc. Click here for more info.


Now that you're all updated on this module, click here to learn how to create your first payroll!