Overview
The Leave Module allows for integration with your Google, Outlook or Office 365 calendars. This can be done to view both your own leave on your calendar and that of others from whom you have the permission to do so on Talexio.
Permissions
To set up the Calendar iCal link, you will need any one of the four Leave-related permissions:
Request Leave
Approve Leave
Manage Leave Types
View Other Employee Leave
For more information on leave permissions, click here.
iCal Link Set up
To set up the iCal link with your Google, Outlook, or Office 365 calendar, you will need to go to the Leave section. From here, click on the Calendar iCal Link button:

By default, the calendar link will only contain your own leave. If you want the link to contain the leave of others, you will need to switch on the Include all leave that is visible to me toggle: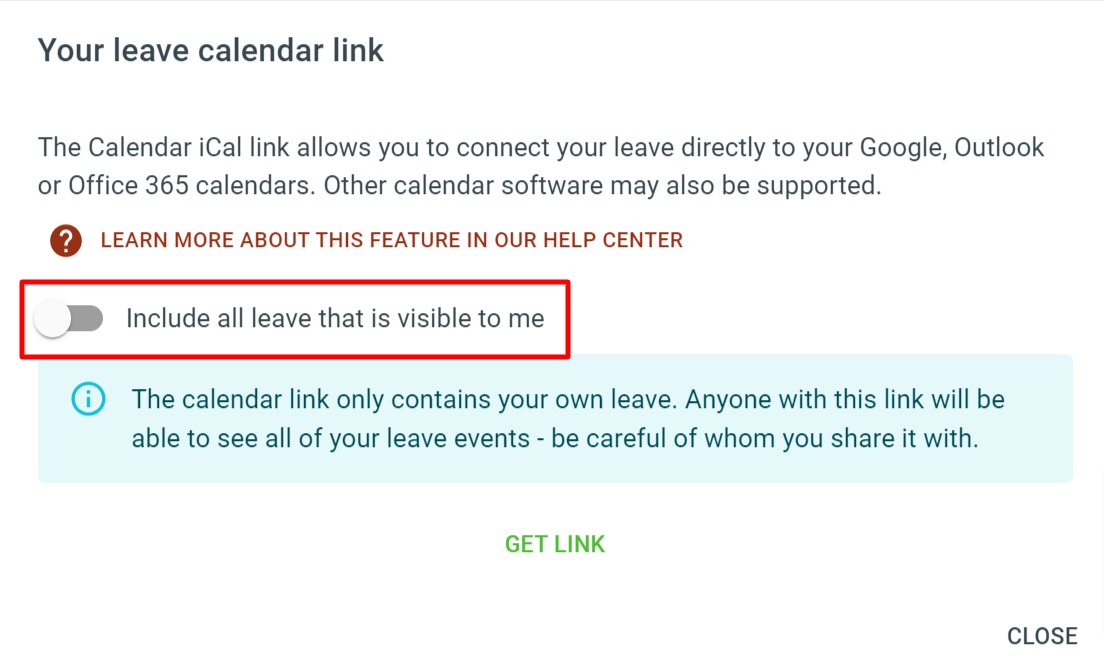 To view the leave of others, it is important that your permission to View Other Employee Leave is set to allow you to view the leave of others. If you are supposed to be seeing the leave of other employees but are not able to, please ask your System Administrator to review your permissions.
Once you have decided whether to download the link that will show you your own leave or that of others, click on the Get Link button. This will show you the link you need to copy.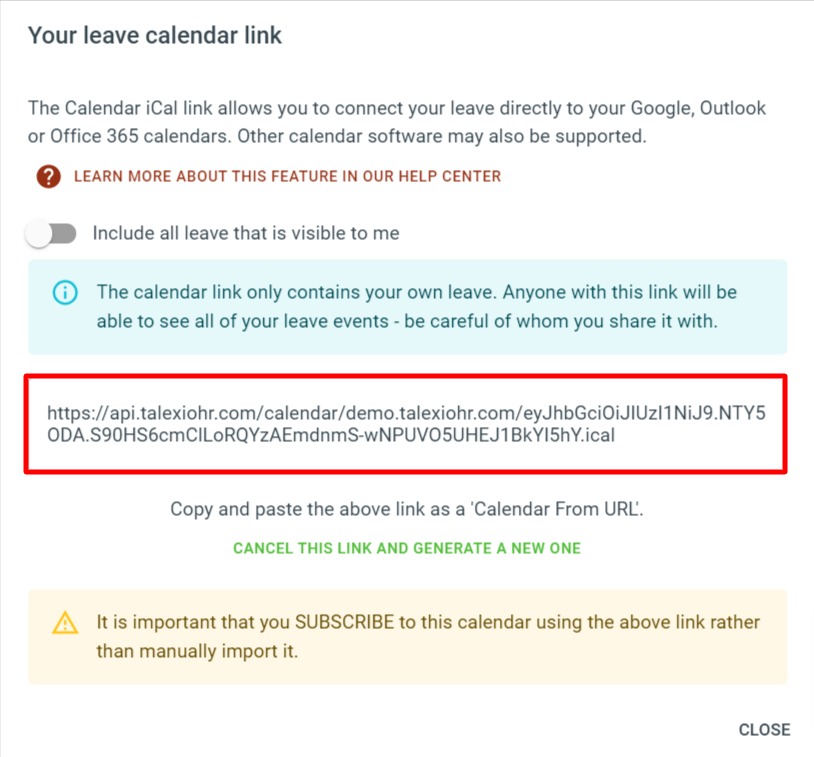 After copying the iCal Link provided, you will need to add this calendar to you the calendar platform you use. The below provides instructions for Outlook Calendar and Google Calendar.
Please follow the below steps to add your Talexio Leave Calendar:



Open Google Calendar
Go to Settings
Click to expand Add Calendar and click on From URL
In the URL field, paste the iCal Link copied from Talexio.
Click Add Calendar

Please follow the below steps to add your Talexio Leave Calendar:



Open Outlook Calendar
Click Add Calendar
Click Subscribe from Web
In the URL field, paste the iCal Link copied from Talexio.
Click Import

Please follow the below steps to add your Talexio Leave Calendar:



Open Apple Calendar
Click File
Click New Calendar Subscription
In the URL field, paste the iCal Link copied from Talexio.
Click Subscribe