Overview
Leave time slots are specific leave periods which you may set up for your employees to select when booking leave on Talexio.
Contents
Permissions
To set up time slots, you will need the Manage Leave Types permission (this must be set on global). To book leave, you will need the Request Leave permission (set on whoever you can book leave for - so, if you should book leave for yourself, it would be set on self). Click here for more information on permissions.


How to set up Leave Time Slots
Go to the Leave Time Slots tab in the Leave section. Click on +Add Leave Time Slot. A dialog box will pop up.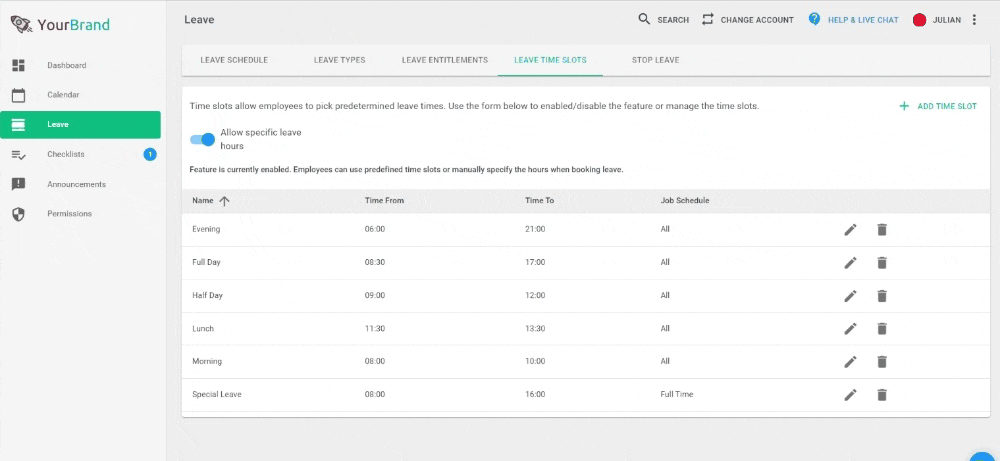 Here you will need to input the:
Name of the time slot (for example: morning leave slot)
Job schedule: by default, all job schedules are selected. By adding a job schedule through the drop down, you are specifying that employees on a specific job schedule can make use of these time slots.
Time from and Time to: here, you will specify the time period of the leave slot. For example, from 8am till 11am.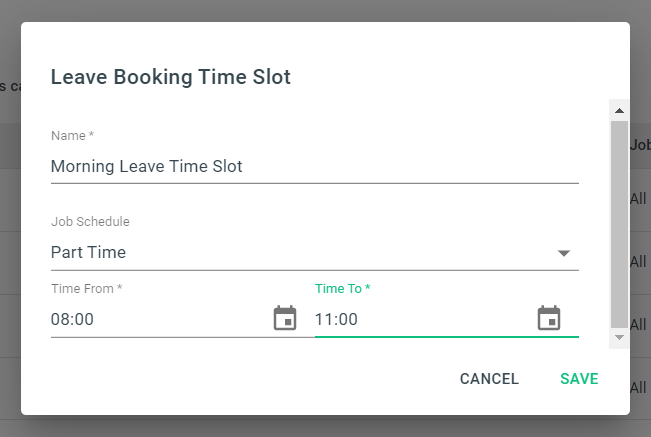 Click save.
You may add multiple time slots if you need.
How to book leave with Leave Time Slots
When booking leave, you will see a new field entitled Time Slot. Click on the drop down menu to select a time slot. The rest of the leave booking process is the same. Click here for instructions on how to book leave.

Allow Specific Leave Hours
The Leave Time Slots tab also includes a button titled Allow specific leave hours. When unticked, users will not be able to select specific hours when booking leave. They will only be able to select full days (or, if leave time slots have been set up, then they can select a time slot).