Overview
When uploading adjustments in bulk in a single payroll, the template has two columns titled:
Internal remark

Payslip remark
These remarks are optional, and they are used to act as information points (when and if necessary) for both for the Talexio payroll user and for the employees receiving the payslip.
The internal remark will only display information in the payslip dialog and in the PDF version of the payroll report and the adjustment report. Whilst the payslip remark will give employees more information, perhaps add a date or a short note for clarity on the added adjustment.
There are other ways of having adjustments included in an employee payslip, these include:
Shift allowances

Adjustments included as part of a remuneration package

Requestable allowances
Note: The below information is only available for adjustments added in bulk.


Contents
Permissions
To complete this process, the Manage payroll permission is required.


Adding remarks
When in a payroll, click on Edit and choose Bulk edit.
Go to the Adjustments tab, click on Bulk upload and select Download template.


Open the downloaded file, notice the two columns titled InternalRemark and PayslipRemark. Add the required data:



Save your data and upload your file.

On completion, the adjustments that are included in your file will be displayed on your screen, click Save.

Viewing remarks
The payslip of an employee with a remark will have an (i) icon next to the adjustments. Clicking on the icon will display a dialog with the inserted information.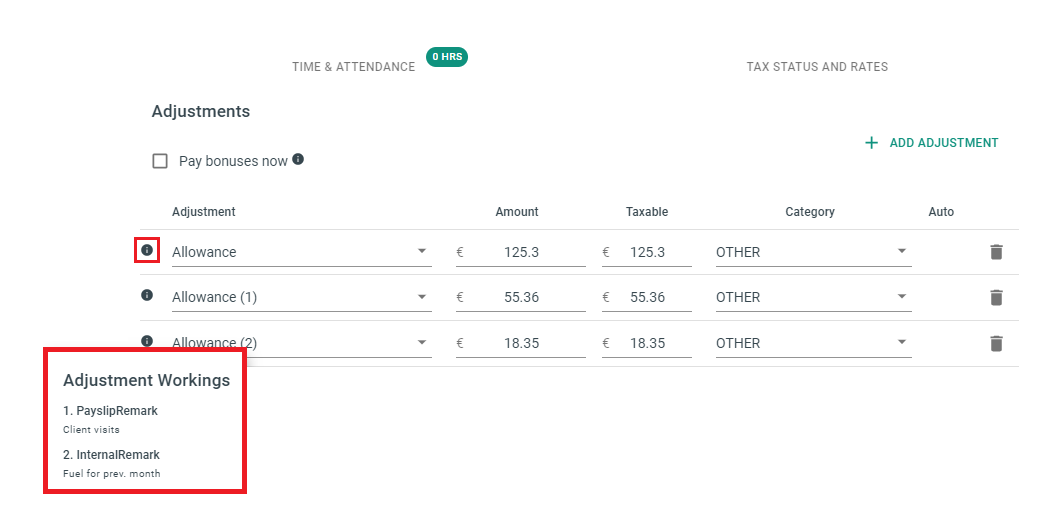 The payslip remark will be showing on the employee payslip.

Below is from where internal remarks can be viewed.
Payroll report
Adjustments report
Related Articles