Overview
Employees are what make up your company. Employees are displayed in the People section of your Talexio account. But how do you add employees to Talexio?


Contents
Permissions
To add employees to Talexio, you will need the Create Employee permission (on global) and View/Manage All Employee Data. If you want to add an employee (including their position and salary details), you will also need the Manage Employment Position History permission.
A new employee profile can be created individually or else uploaded in bulk via the onboarding assistant.
Individual
To add employees individually:
Go to the

People section;
Click on the +Add new employee

button at the top right-hand side.

Input employee details and position, then click save employee position & finish.

Onboarding Assistant
To add employees in bulk, check out our instructions here: Onboarding assistant


Details
The below are the fields that you find in the employee details:

1. Personal details: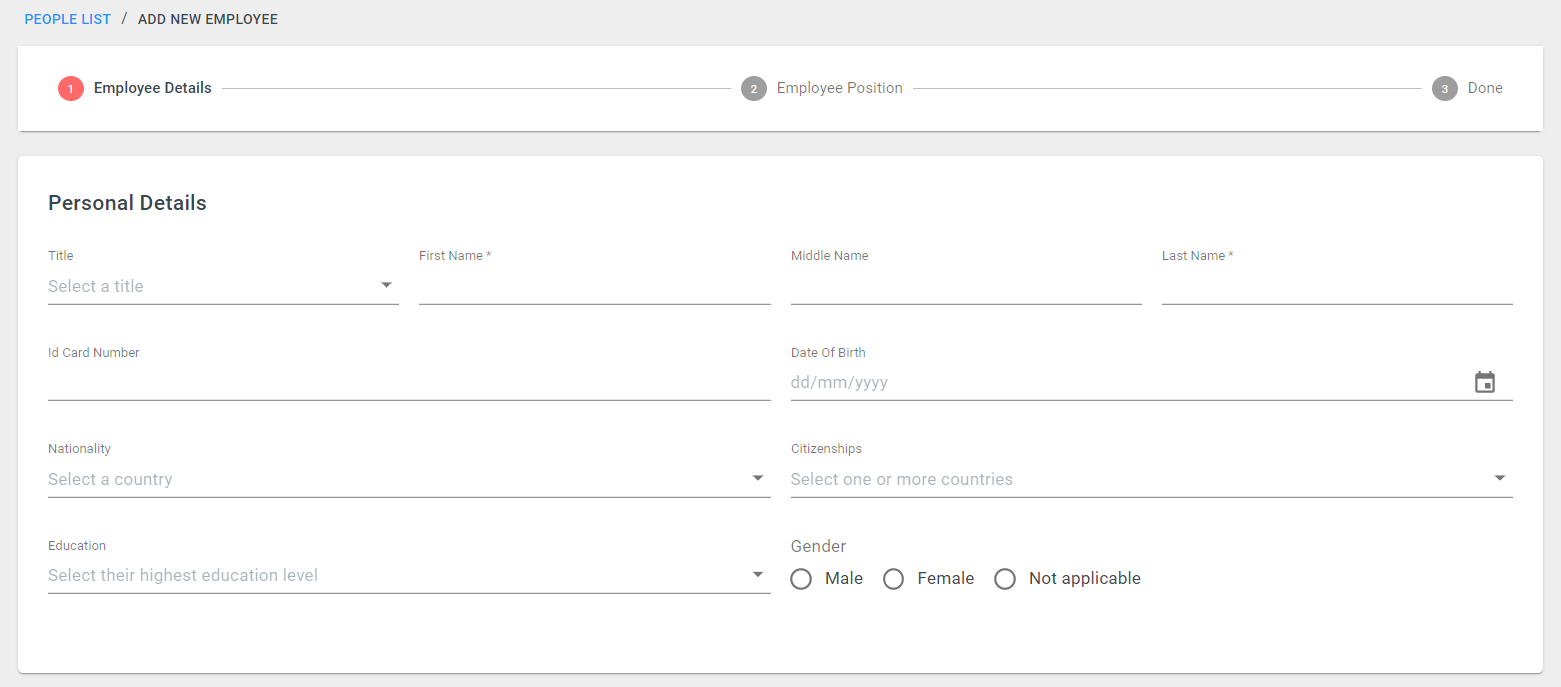 Here, you can input the employee's name, surname, ID card number, nationality, etc.
2. Residence


Here, you can input the following information:
Personal email address (the email inputted in this field will be the address via which employees will receive their payslips and FS3s);
Residential address and phone details;
Languages which the employees are proficient in, and their level of proficiency;
Any emergency contacts and health information (such as food allergies).
3. Roles and checklists

Roles refer to the permission rights the employee will have. For more information about permissions and how to set them up, click here.
Checklists are to-do lists assigned to an employee. They can be onboarding tasks that the employee need to complete on commencement of their position with your company. For more on checklists, click here.
4. Employment

Here, you can input the following information:
Employment code: this is a unique code, chosen by you, that will help the system distinguish one employee from the other (especially in cases where employees have the same name and surname);
NI Number;
Work email address: in this field, you need to input the email address that employees will use to log into Talexio (if you will be granting them such access). Should employees have just one address, then this can be used in both the work email address field as well as in the personal email address field.
Requires work permit;
Work permit renewal date;
Non-resident arrival date.
5. Payroll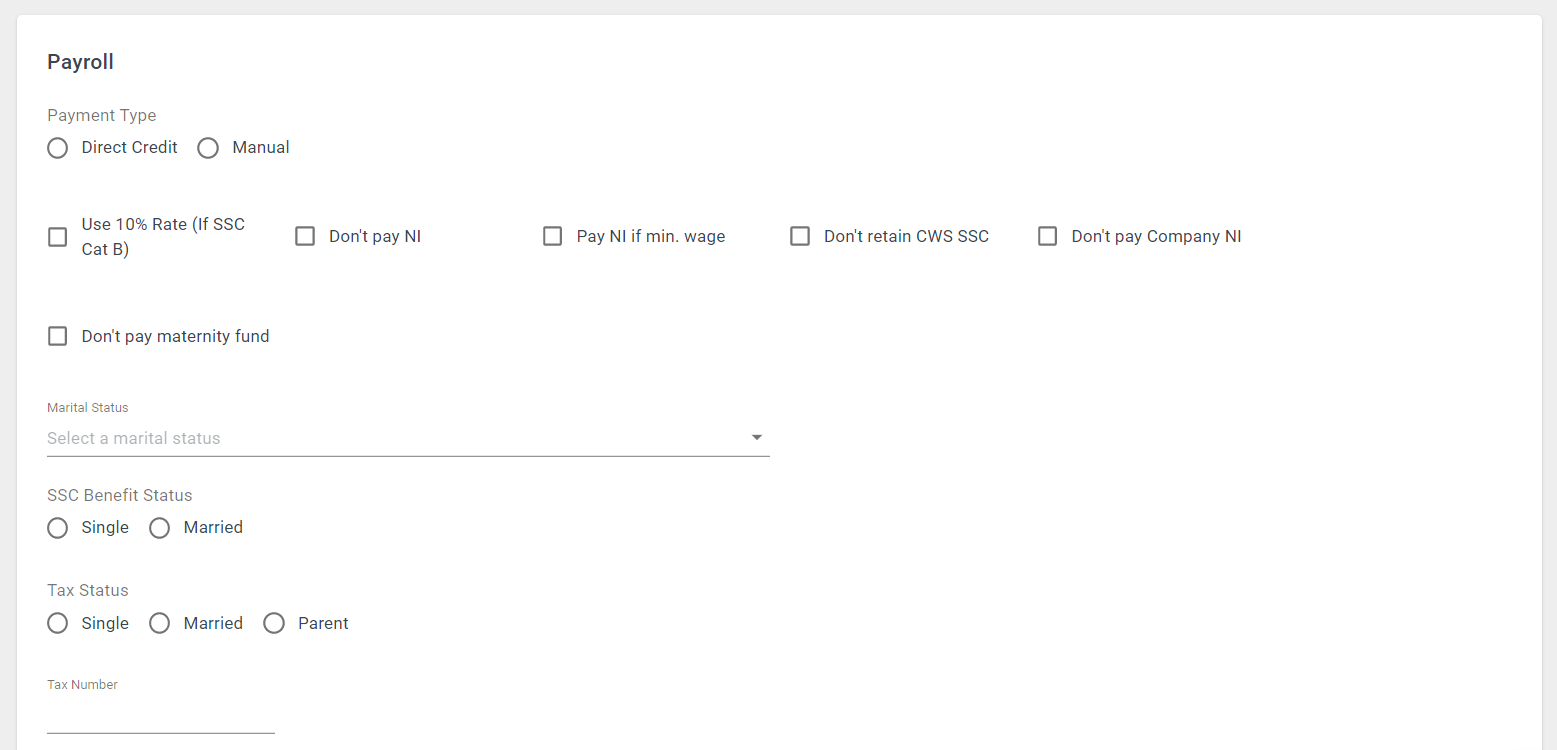 This section can be filled in if you have the Payroll module enabled. The following information can be inputted:
Payment type: Direct credit refers to employees who will be paid by bank transfer. Manual refers to employees who will be paid by cheque or cash;
Use 10% rate (if SSC Cat B): this applies for employees whose basic weekly wage puts them under category B of the Social Security rates (for more information about SSC categories, access this link. For those employees whose basic weekly wage falls under category B, they may choose to pay 10% of their basic weekly wage instead €18.11. In such case, you would tick this box;
Don't pay NI: this applies for employees who pay NI with another employer;
Pay NI if min. wage: employees who earn less than the minimum wage are not entitled to pay NI. In such cases, if any employee still wishes to pay (despite there being negligible impact), you can tick this box;
Don't retain Covid wage supplement (CWS) SSC: this applies for companies who make use of the Covid wage supplement. This box would be ticked in case where an employee (student, pensioner, or other) does not pay social security.
Don't pay company NI;
Don't pay maternity fund.
Marital status: this refers to whether an employee is single, married, divorced, etc.;
SSC benefit status: this refers to the sickness benefit status of the employee. You need to select whether an employee is single or married (as different rates apply according to this);
Tax status: whether the employee is taxed on the single, married, or parent rates;
Tax number: in the case of Maltese employees, this is the same as their ID card number.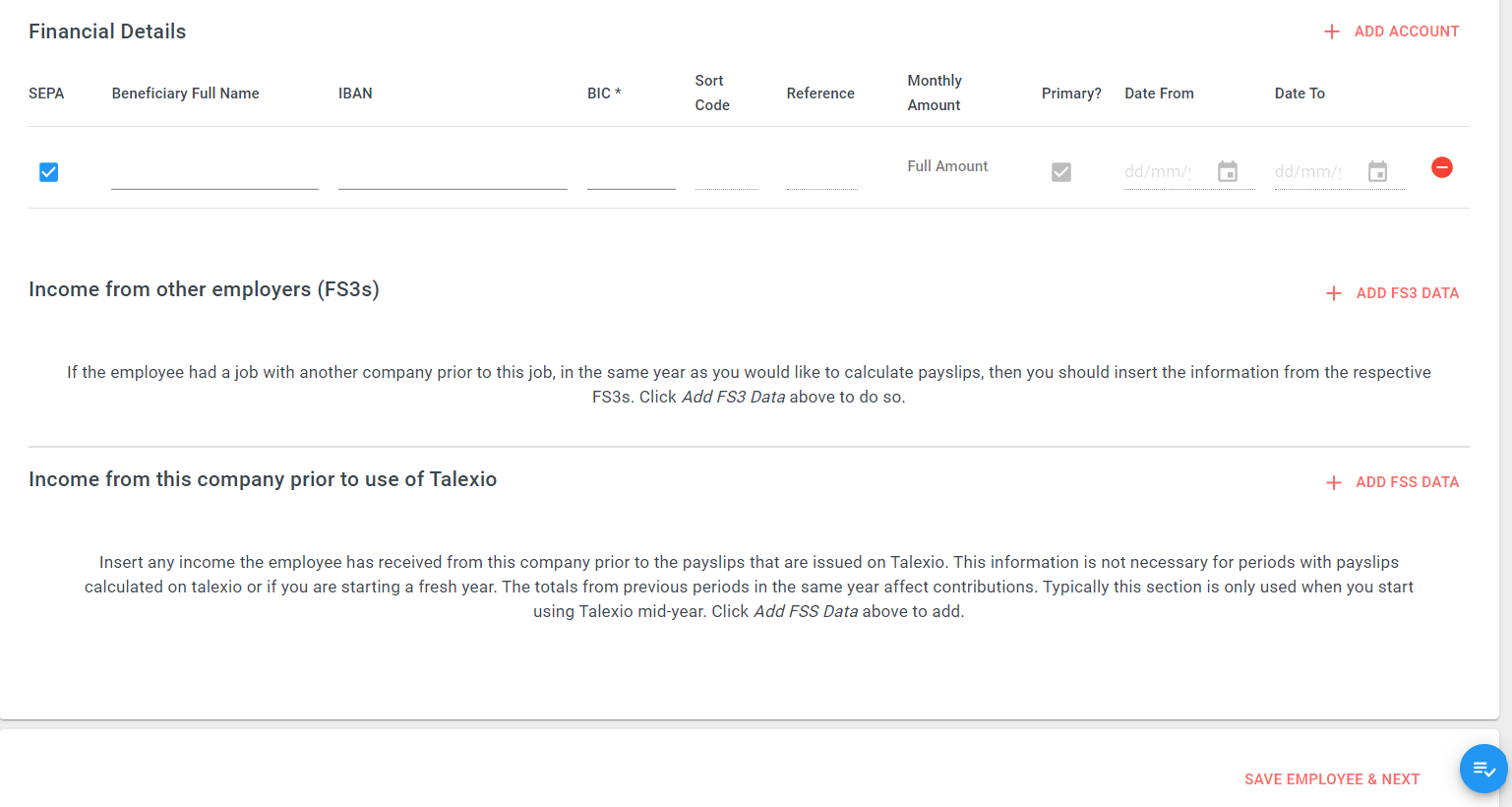 Financial details: if an employee is to be paid via bank transfer, you need to include his/her bank details here. You may add more than one bank account and divide the salary over multiple accounts (see the field Monthly amount);
Income from other employers (FS3s): here, you will need to put in the FS3 data of the employee from his previous employment prior to joining your company (this applies for the current payroll year only);
Income from this company prior to use of Talexio: in the case where you are moving from another payroll software to Talexio, you will need to put in the previous payroll data of your employees (who were with your company during the year) in here. This field is like the one before it, except that is made up of payroll earned with your company. For more information on previous payroll data, click here.
Mandatory Fields
The following fields are required to create a new profile:
The following details are required for payroll purposes:
Personal email address

Address

Country

Payment type

Tax number

SSC Benefit status
An employee may be created without adding a Position History. All data can be edited at a later stage.

Next Steps
Once the profile is created, you may:
Related Articles