Overview
Employees are entitled a number of hours of vacation leave per year. Full time employees are given a base entitlement of 192 hours (or 24 days) each year. They might be granted more hours of vacation leave depending on the number of public holidays that fall on a Sunday in that year (for example, in 2022 the base entitlement is 224 hours). Employees not on a full time 40 hour/week basis are given the base entitlement pro-rata depending on their working hours and their start date.
Permissions
You need to ensure that you have 'Manage Leave Types' permission.
Leave entitlements per year
Leave entitlements are the amount of leave that employees can have per year. These are split per country, per year, per leave type, and can be set in advance.
| | |
| --- | --- |
| Year | Vacation leave entitlement |
| 2020 | 216 hours |
| 2021 | 216 hours |
| 2022 | 224 hours |
| 2023 | 208 hours |
How do I set up the entitlements?
To set your company's leave entitlements, go to the Leave section and click on Leave Entitlements: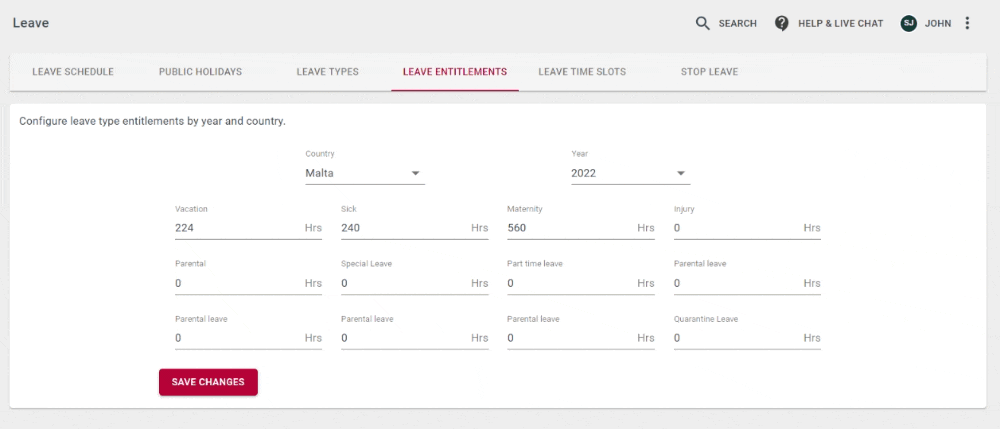 By default, the hours for Maltese vacation leave will be pre-set by Talexio. In December we will update the entitlements for the next year. Any other leave type added will need to have it's entitlement updated here. Also, the leave entitlement of any other country and future years also need to be inputted manually.
To select a different country, click on the arrow next to Malta and select the required country from the drop down menu.
The same can be done for the year by selecting the arrow next to 2022.
Click save changes.
If you amend leave entitlements from this section:
Talexio will update the base leave entitlement for all employees. If you'd like to update leave entitlement for one particular employee, read more here about updating

Employee Leave Entitlements

.

Leave is given pro-rata based on the job schedule (number of hours worked per week) and start date of the individual. Read more about Pro-rata Leave Entitlements here.